March 30, 2023
Nautical Area Rugs: Design Ideas For Your Beach House
Anchor your space with a beautiful Nautical Rug. Nautical Rugs come in everything from Navy and white stripes to woven rope designs. Learn how to select the best Nautical Rug for your beach house.,
Anchor your space with a Nautical Rug. Nautical Rugs create that beachy cottage feel that everyone loves. It can also be classic, sophisticated and simple. Nautical rugs come in a vast array of choices from navy and white stripes to woven rope designs, as well as more whimsical nautical design with shells and anchors.. There is nothing better than Beach House Rugs that remind us of the sea and are easy to care for when relaxed living is the goal.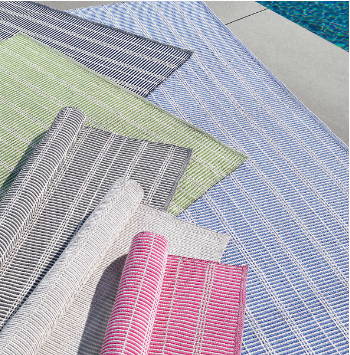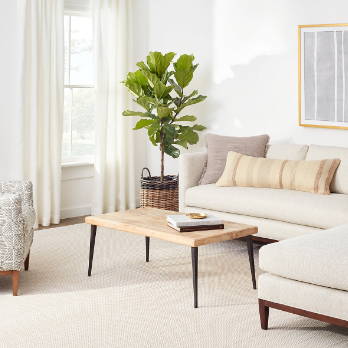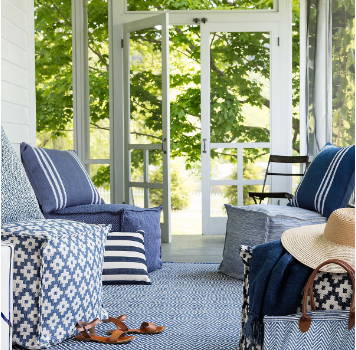 Care and Maintenance Of Nautical Rugs
The care and cleaning of Nautical rugs depends on what they are made of and the type of rug, .Indoor outdoor Nautical Rugs are the best nautical rugs for easy care. They are durable and can be hosed off. Natural fiber Nautical Rugs made of materials like Jute and sisal can be vacuumed or shaken but not wet cleaned. Nautical Rugs made of cotton or wool can be vacuumed and should be professionally cleaned.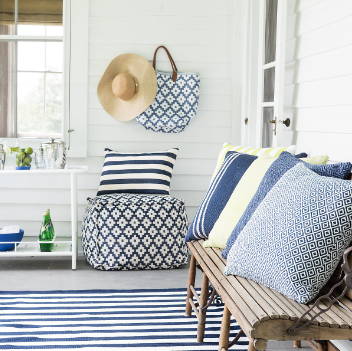 Nautical Rug Designs
We love coastal rugs with a nautical theme because they evoke the classic elements of the sea. ,,stripes, knots, rope, wave patterns and more. The colors range from navy blue, white, red, natural and include just about every shade of blue.
Shop Now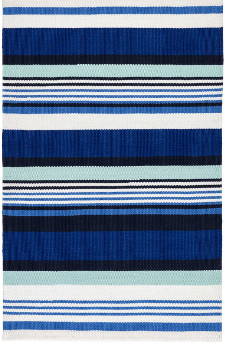 How to Chose a Nautical Rugs
Choosing the best Nautical Rug for your coastal style home is easy.. Start with determining how you want the room to feel. Do you want a classic nautical look? Then go with a classic nautical stripe. Or - do you prefer a more subtle nautical touch? Then go with a natural rug in a textured knotted design. Or do you want your room to be whimsical? Then look for sea motifs like ship flags, anchors and sea shells. Always consider the use of the room too. If the room has high traffic and sandy feet, go with a nautical indoor/outdoor rug that will hold up and is easy to clean. If its a bedroom or library, you can go with something like wool or cotton when it gets less traffic and you want something cozier.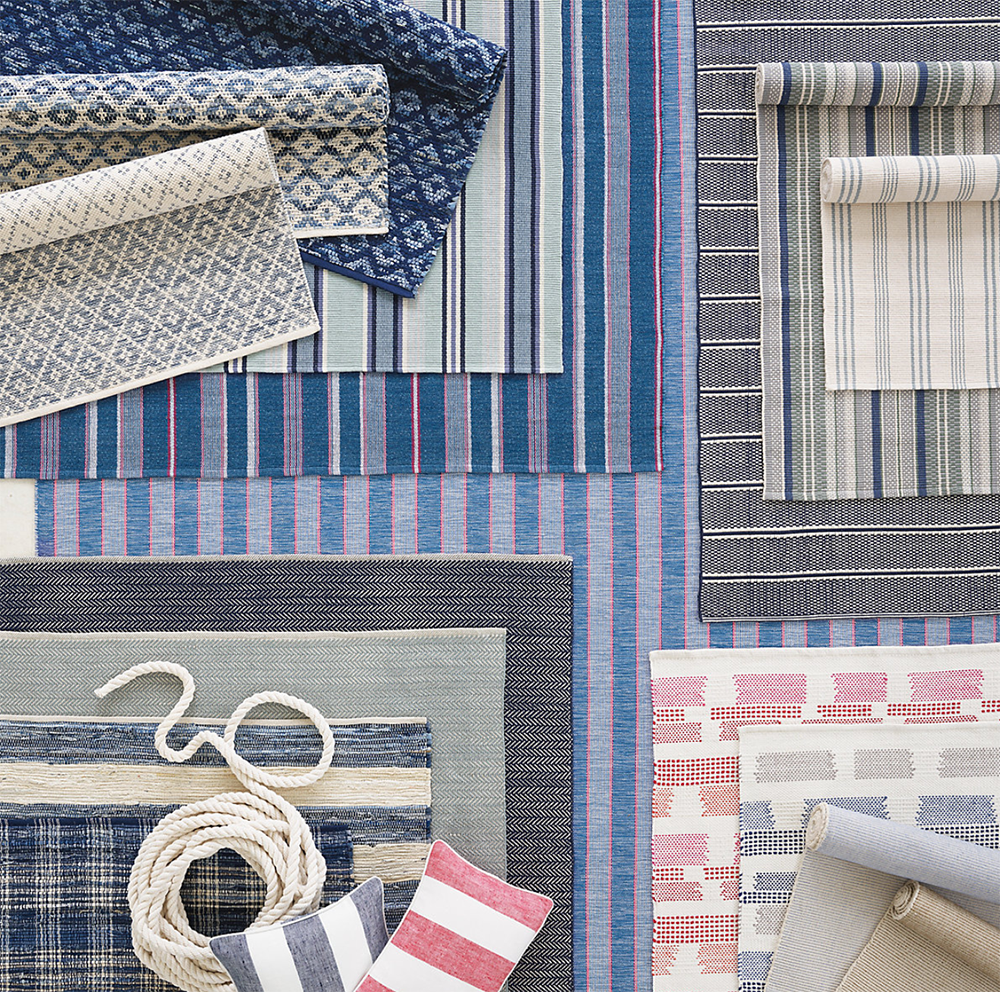 Design Ideas: Nautical Rugs
Nautical Rugs can be chic. Anchor a room with a bold Navy and white stripe to create a classic Nautical feel.
Shop Now
Where to Buy Nautical Rugs
When shopping for a Nautical Rug, it's important to consider the size and style of the rug, as well as the quality of the materials. Some of the best places to purchase nautical rugs include online retailers, like Our Boat House, which specializes in coastal decor. Other options include home decor stores, department stores, and rug galleries.
When selecting a rug, be sure to measure your space to ensure that the rug fits properly. You should also consider the style of the rug and how it will complement your existing decor. A well-chosen rug can be a statement piece in a room and add the perfect finishing touch to your beach house.
Nautical Rugs are a versatile and timeless addition to any beach house. Whether you prefer a traditional or modern style, or a nautical rug, there is a perfect option for your space.
When selecting a rug, be sure to consider the size, style, and quality of the materials. By following these tips, you can find the perfect nautical rug to create a beachy, coastal atmosphere in your beach house. Be sure to check out Our Boat House collection of Nautical Coastal Rugs to find the perfect option for your space. Clients often ask, where do you start in choosing the colors and elements in a room? We believe most rooms start with the foundation of a rug because it anchors the space and creates a base of texture, color or pattern that has the most impact. Rugs are a great jumping off point. Start with a wonderful rug and the rest will fall into place.
September 05, 2023
Addicted To Wicker & Rattan! Simply The Best Pieces To Add To Your Home.
We are Addicted to Wicker and Rattan.  Why? Because Wicker and Rattan is timeless and reminds us ...
Read