March 14, 2023
Pastel Rugs: How To Add Subtle Color to Your Beach House
Lighten and brighten any space with a pastel rug. Pastel rugs are the perfect choice for a beach house or any type of room you want to infuse new life into.
Pastel colors are soothing, light and airy. There is a high brightness level but a low saturation level, meaning pastel contain less gray. Pastel tones of blush pink, robins egg blue, sage green and canary yellow create a sense of calm in a space. It evokes a feeling of Spring and a sense of renewal. Pastel rugs are the perfect starting point for a room. Everyone can remember seeing pastel toned beach cottages in places like Bermuda and the Bahamas. Pastels reminds us of sunny days, beach combing for shells and sandy shores. A well chosen coastal pastel rug will create that relaxed beachy vibe in your home. Selecting the best pastel rug for your room is easy with our guide. This comprehensive guide will help you select the perfect beachy pastel rug for your beach house.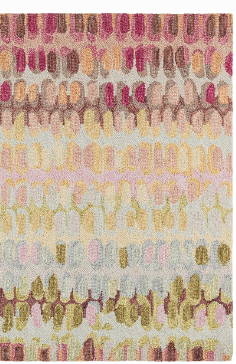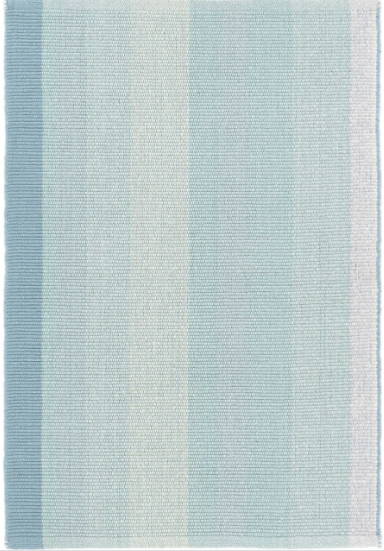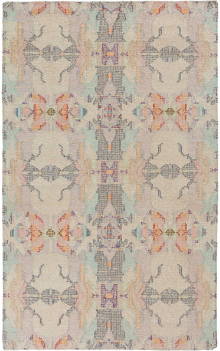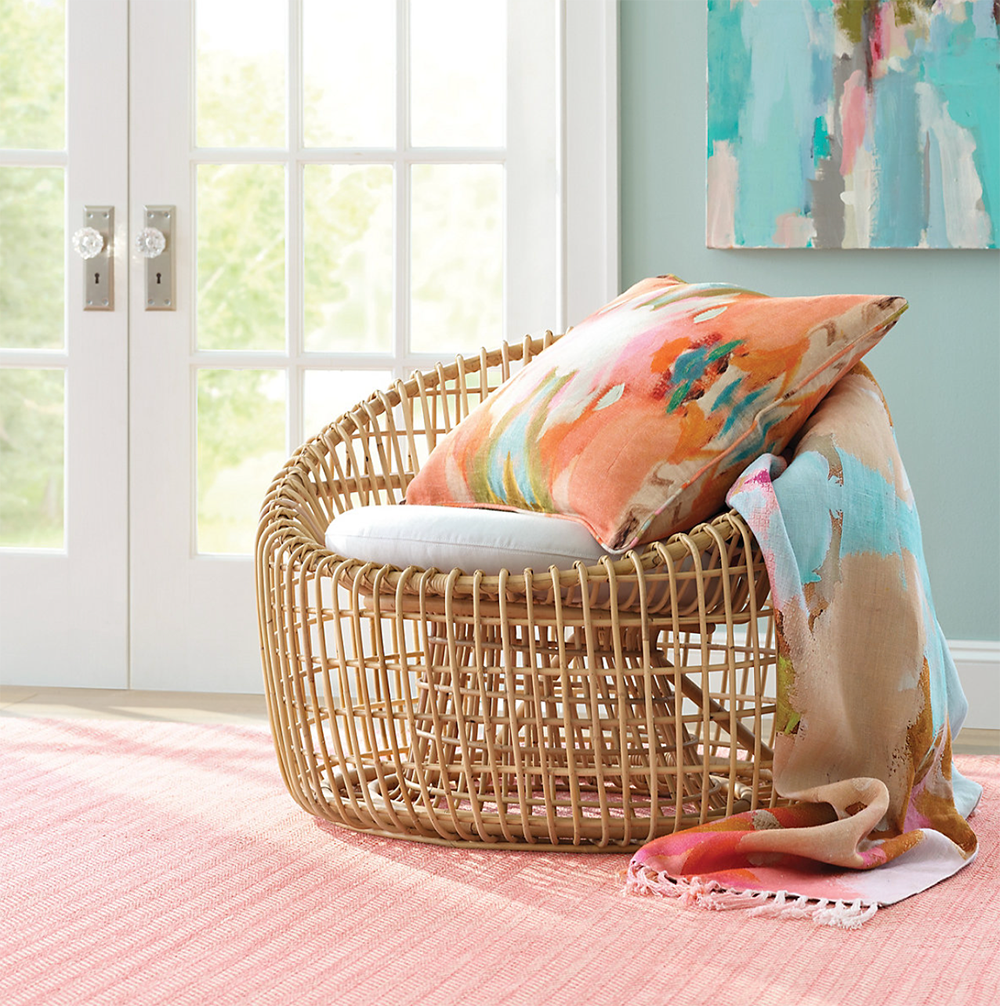 Pastel Rugs
Pastel Rugs can give a plain white space a subtle hint of color without overwhelming the room. Pale tones are a great backdrop for other items that you want to stand out, like a piece of art. Soft colors allow the eye to rest and keeps items in the room from competing for attention. Pastels can also be added to an existing space to lighten the room, even if your furnishings are dark. Pastels work well with darker colors too, just be sure to repeat the lighter tones throughout the room to tie it together. Adding a pastel rug to a room can transform the space and create a relaxing, beachy atmosphere.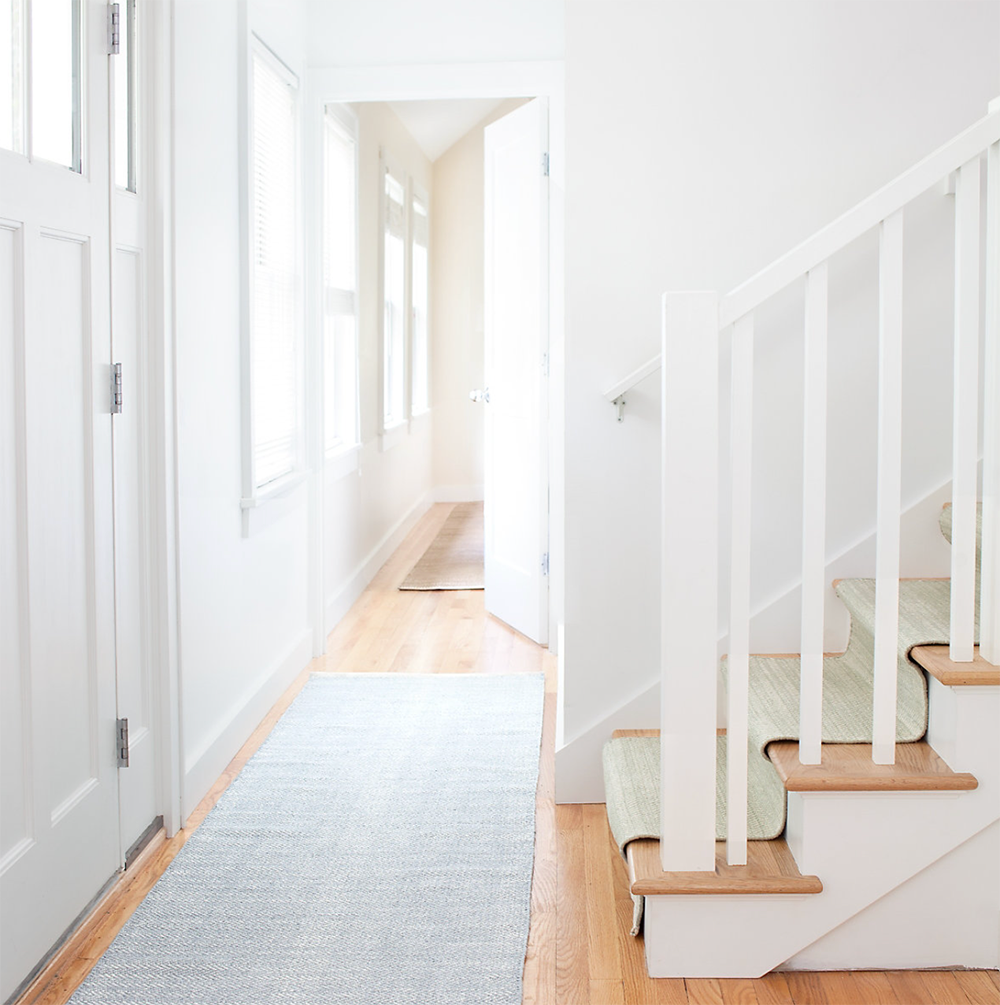 How To Select A Pastel Rugs
There are several things to consider when selecting a Pastel Rug. First decide on the colors you want to add to the room. Pastel rugs can be just different tones of one or two colors or they can be more colorful and have a rainbow of colors. Rugs that have only one or two colors tend to be more soothing, but rugs with several colors can be cheerful and fun. Think about how you want to live in the room...is it a restful space like a bedroom or is it a room that you want to add more energy and vibrance like a family room or kids room. Considering the best size, shape and material are easy to do when you know the basic guidelines. Having a rug too small for a room can make the entire room feel uninviting and unfinished. So, the first basic guide is to go bigger rather than too small. Rugs usually come in standard sizes such as 9 x 12, 8 x 10, 5 x 8, 4 x 6 and 3 x 5. We usually consider the furniture arrangement first when deciding the best size rug. In a living room, generally all four legs of the major pieces of furniture should be on the rug and at the minimum the front legs and half the sofa or chair depth should be on the rug to make the furnishings feel anchored. To keep the room looking airy and spacious, we usually leave between 10" and 24" from edge of the rug to the wall. In a dining room, the most important thing to keep in mind is that the dining chairs should still be on the rug when you pull the chair out to sit on, to avoid it catching and becoming uneven. In a bedroom we usually leave enough room to step on to the rug and walk around the bed on, to avoid walking half on and half off the rug. Hallways are usually best with runners and you should account for door openings to make sure they don't get caught on the rug when you open the door.
The best shape of the rug is generally the shape of the room it's going in. A rectangular room is best with a rectangular rug -a square room is best with a square rug. An exception to this is if it's a dining room and you have a round dining table. Then a round rug may be best. Or if you have a round seating arrangement, then a round rug might be best. An entry may also be best with a round rug if it has a big square space.
The best way to select the material of the rug is to consider the use of the room. A high traffic area may be best with a strong durable material like wool, polypropylene or jute. A bed room that has less use may be best with a soft cotton or thicker pile cotton blend rug when you want comfort on your feet and there is no need for high traffic rugs. If it's a kitchen or a dining room you may want to consider an indoor outdoor rug that hold up to spills and is extremely durable.
Shop Now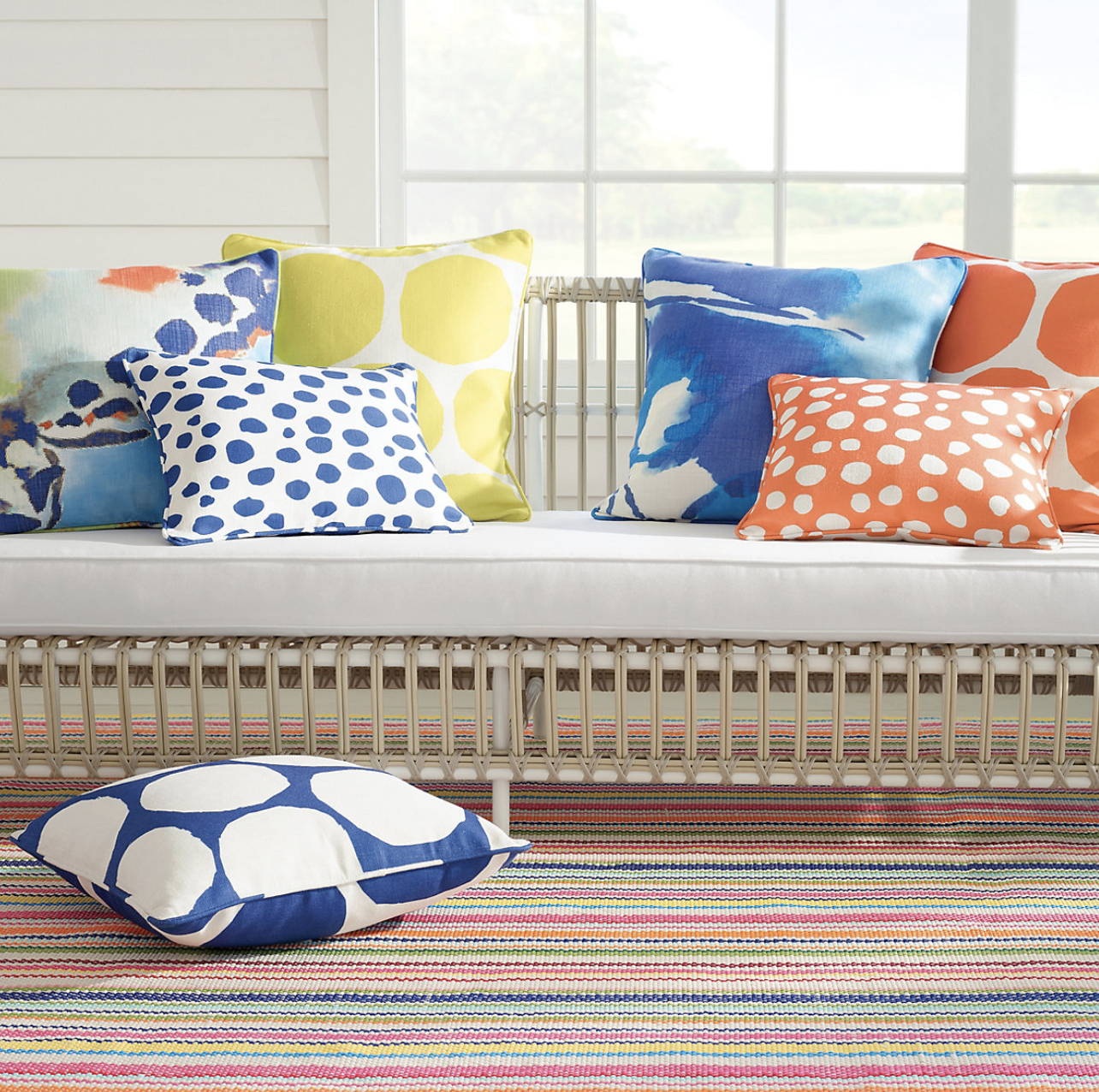 Styling With Pastel Rugs
Pastel rugs pair well with white and neutral furnishings and can be the jumping off point for accents in the room. Start with a pastel rug add in white slipcovered furniture and some natural furniture such as a few wicker and seagrass tables and chairs. Pull it all together with some pastel throw pillows and accents like a soft pink vase. Paint the walls white or a soft blue and the result will be a soothing, airy retreat. If you already have your main pieces and maybe the room feels to dark then add in a pastel rug and repeat the pale colors in throws and pillows to transform your space.
Pastel rugs can be mixed with bright colors too, for a fun and colorful summer beach house.
Shop Now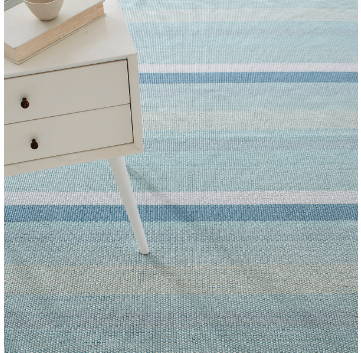 Maintenance & Care Of Pastel Rugs
The care of your Pastel Rug depends on the type of rug it is and what it is made of. Pastel rugs are available in a variety of materials from polypropylene, PVC, cotton, wool and even jute. Polypropylene rugs can be vacuumed, washed with a hose and scrubbed, but not machine washable. PVC rugs can be hosed, scrubbed and are machine washable and can be line dried. Cotton Rugs should be vacuumed or shaken. If cleaning is needed, they should be professionally cleaned. Wool Rugs can be vacuumed and spot cleaned. Blot any spills first and if a cleaner must be used test it first. Rinse with clean water but do not soak the rug...just use a damp rag and do not scrub. It is recommended that wool rugs be cleaned professionally once a year. Jute rugs should be vacuumed without a beater brush or shaken. If it needs further cleaning, we recommend professional cleaning only.
Where to Buy Pastel Coastal Rugs
When shopping for a pastel coastal rug, it is important to consider the size and style of the rug, as well as the quality of the materials. Some of the best places to purchase coastal rugs include online retailers, like Our Boat House, which specializes in coastal decor. Other options include home decor stores, department stores, and rug galleries.
When selecting a rug, be sure to measure your space to ensure that the rug fits properly. You should also consider the style of the rug and how it will complement your existing decor. A well-chosen rug can be a statement piece in a room and add the perfect finishing touch to your beach house.
Pastel coastal rugs are perfect for a beach house or any home that you want a light and airy atmosphere. The pastel hues of pale blue, soft pink, sage green and canary yellow creates a charming and tranquil feeling in any room. Whether you prefer a traditional or modern style, or a natural fiber rug, there is a perfect option for your space.
When selecting a rug, be sure to consider the size, style, and quality of the materials. By following these tips you can find the perfect pastel coastal rug to create a warm and inviting atmosphere in your beach house. Be sure to check out Our Boat House collection of pastel coastal rugs to find the perfect option for your space. Clients often ask, where do you start in choosing the colors and elements in a room? We believe most rooms start with the foundation of a rug because it anchors the space and creates a base of texture, color or pattern that has the most impact. Rugs are a great jumping off point. Start with a wonderful rug and the rest will fall into place. It sets the tone of a room, whether that be a casual elegance or a more formal feel, rugs set the moo
September 05, 2023
Addicted To Wicker & Rattan! Simply The Best Pieces To Add To Your Home.
We are Addicted to Wicker and Rattan.  Why? Because Wicker and Rattan is timeless and reminds us ...
Read