Outdoors: Fire & Furniture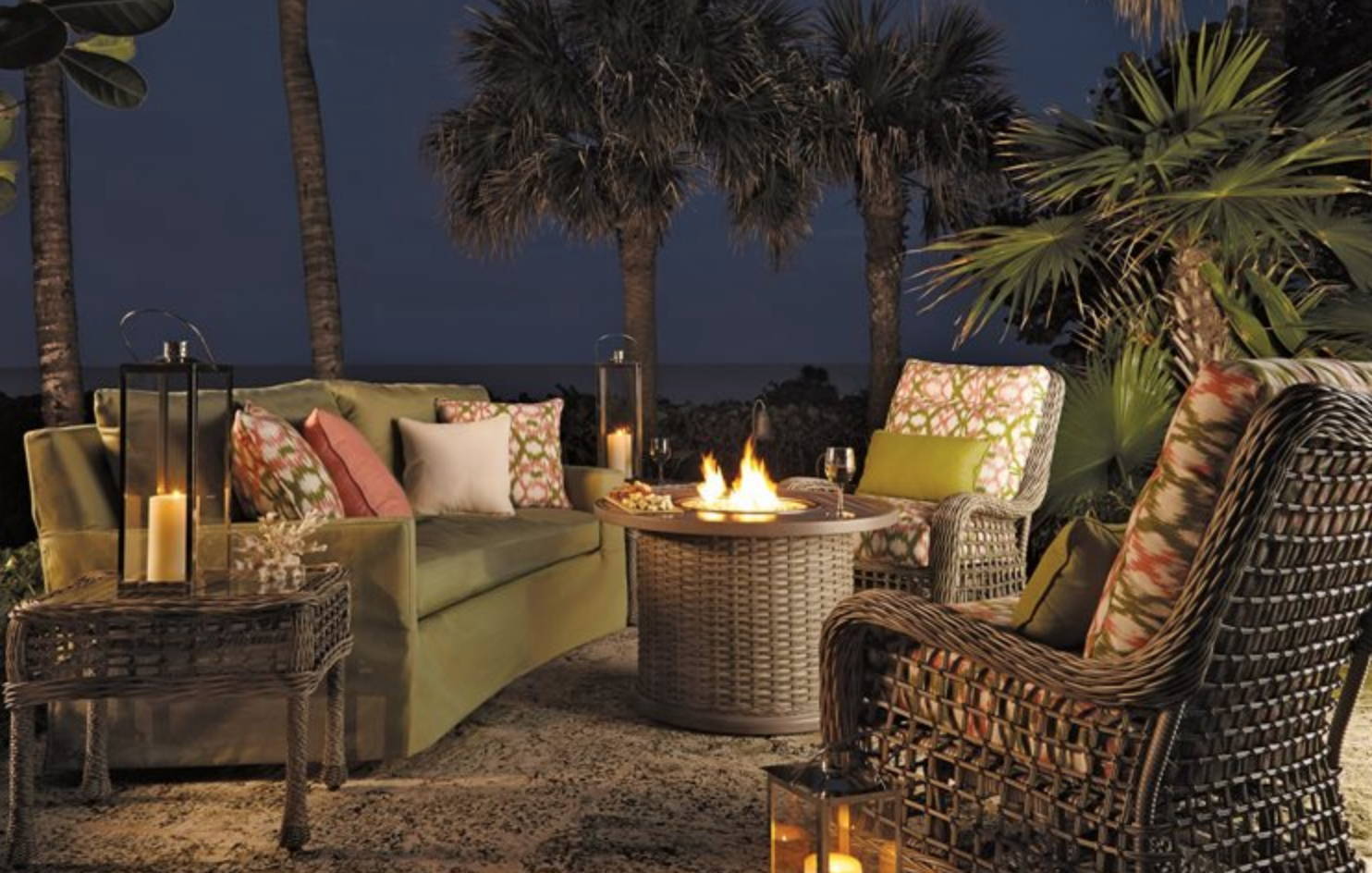 "Keep a little fire burning; however small, however hidden."
― Cormac McCarthy, The Road
Why is fire so relaxing, passionate, yet scary, but mesmerizing and intriguing??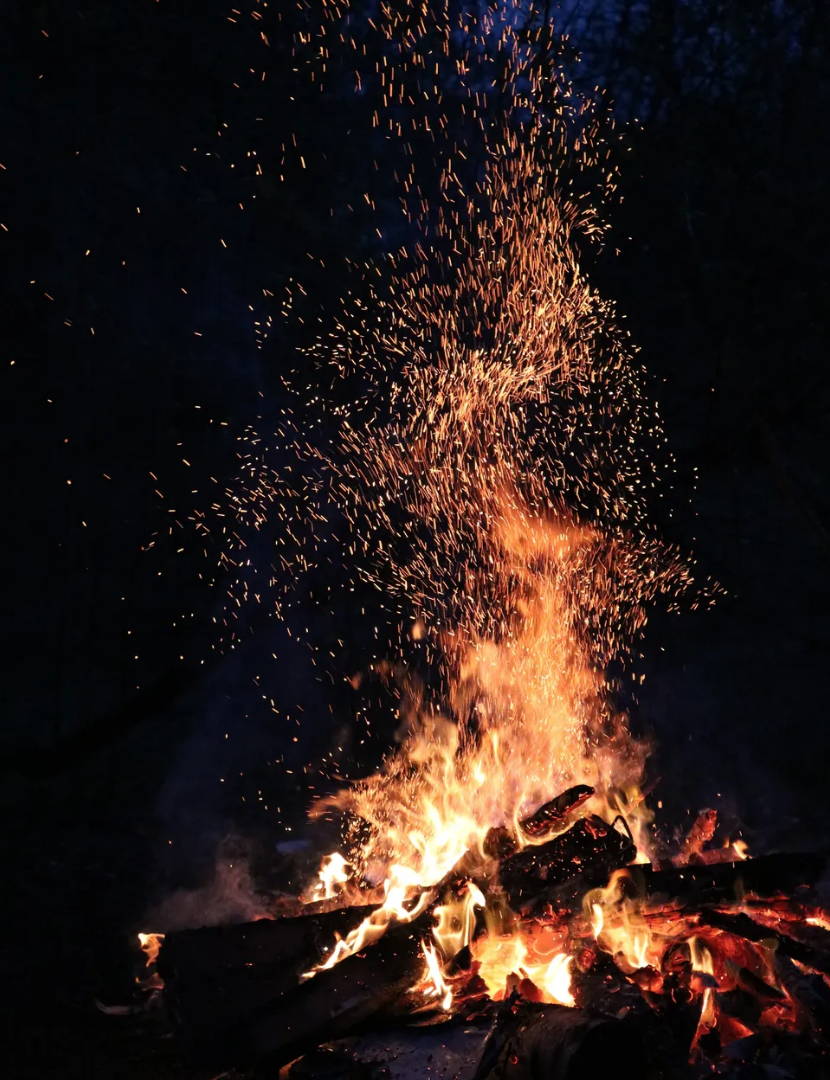 Who doesn't love a day at the beach, a good meal outside followed by a night cap by an outdoor fire? And we don't mean a huge bonfire at the beach- we mean an intimate, relaxing setting under the night sky illuminated by fire.
For years and years, people have been drawn to the element of fire long before our ancient ancestors used it for warmth, protection and cooking food. Basically, the use of fire was critical for man's development. In today's world, with all our modern electric lighting and cooking appliances, good ole fire is associated with comfort rather than a crucial need.

The University of Alabama in Tuscaloosa researched fire and the impact it has on humans. The answers? Fire lowers blood pressure. The information obtained was that when humans are sitting fireside, the senses become encompassed in the experience. The potential to reduce anxiety comes from the calming, yet fixed attention to the flame.

At Our Boat House, we could not agree more, therefore we have a curated collection of fire elements available for your outdoor living spaces.

Add fire pieces to your patio or pool deck to create that relaxing, romantic
summer evening vibe
anytime you like.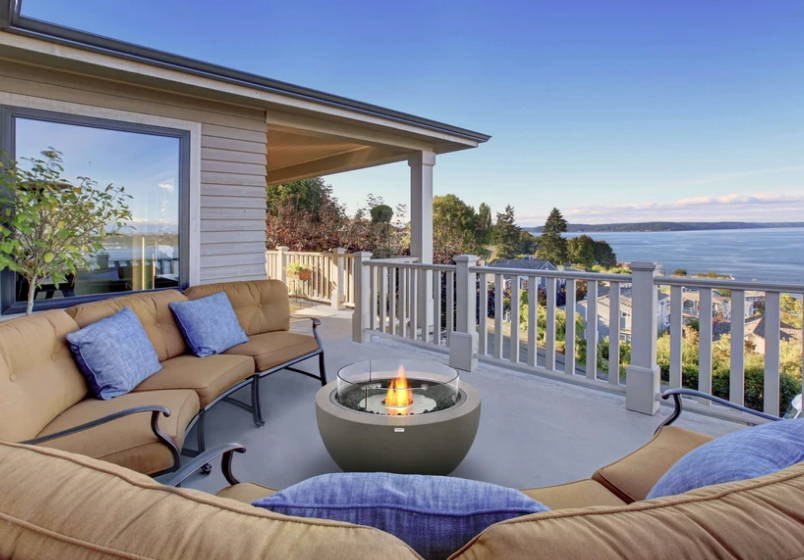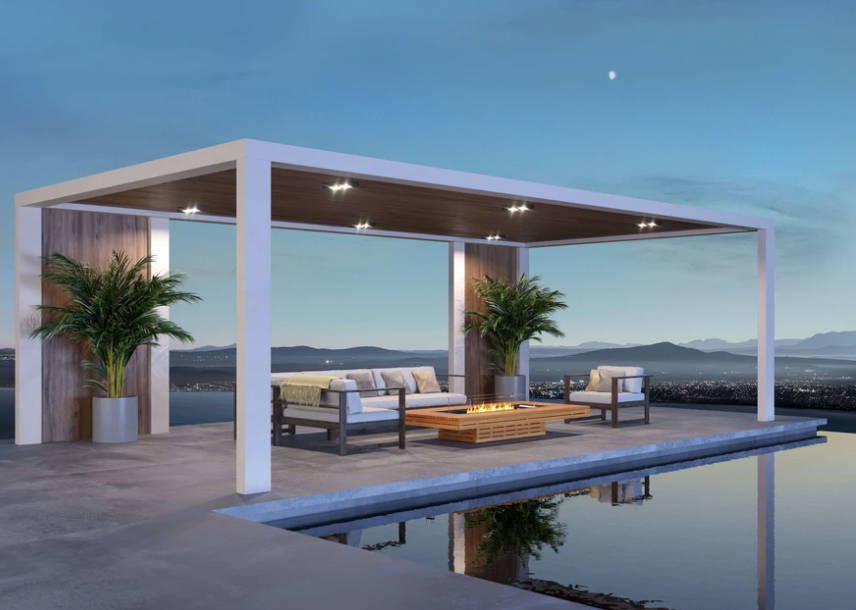 Benefits of Bioethanol Fire Elements
Bioethanol Fire pits, fire bowls and fire tables can all burn at full capacity in mere seconds. Just as easily, they are shut on/off thus allowing that instant flame without a wait. There are a variety of looks, designs, and burner sizes available for fire pits and fire tables. With the many options, you can find the perfect fire pit tailored to any outdoor space. Safety first - you won't find sparks or have hot embers that will stir in windy, deck/patio conditions. Gas pits and tables can be used anywhere when it comes to the decking material and furniture material.
So go ahead and place it next to your pool, on a wood or composite deck - the flexibility is perfect for any outdoor living space.Select from a variety of styles regarding our fire pieces: coffee table, dining or bistro heights are available. Bioethanol fire pits and fire tables provide both heat, a relaxing amount of ambiance with an adjustable flame that quickly ignites with adjustable flame technology.
Fueled by e-NRG Bioethanol
e-NRG is specifically formulated to produce a vibrant orange flame.
Clean Burning
Lose the chimney and the flue and keep the heat in - no smoke, no soot, no ash.
Indoor & Outdoor Fires
Our extensive collection offers you unprecedented choice and is the perfect solution to any design or decor.
Efficiency Over 90%
No flue or chimney means that the heat generated by the fireplace during combustion isn't lost up the chimney.
No Gas, No Electricity, no Flue
Our ethanol burners are self-contained and require no gas or electrical utility connections - speeding up installation.
Quick and Easy Installation
No flues or connection to utilities brings construction costs down and saves you time and money.
Coastal Outdoor Furniture for the Home.
Pair the perfect outdoor pieces with your fire elements. Our Collections of Outdoor Furniture truly stand out. Each piece is uniquely crafted while being beautifully timeless. We provide high quality, sophisticated products with traditional and stylish craftsmanship with innovative, durable & diverse materials. Our pieces will be around for generations to come whether it's on the porch, patio, deck, sand or poolside.
Our outdoor furniture collections are made for the harshest salt and sun environments while keeping comfort and beauty of the utmost importance. Our outdoor beach furniture collection includes an exclusive weathered marine grade teak-mimicking look. Coveted silvery grey patina of aged teak, highly sculptural hand-woven patterns, superior resin available in oyster, driftwood and walnut finishes, plus slipcovered pieces that emulate indoor living. A crowd favorite is cast aluminum with a grain finish to emulate real wood but with maintenance free durability. Find long-lasting performance fabrics covering indoor quality cushions with outdoor properites. Accents in solid brass inlays and robust hardware - these pieces are built for beach, porch or patio furniture living.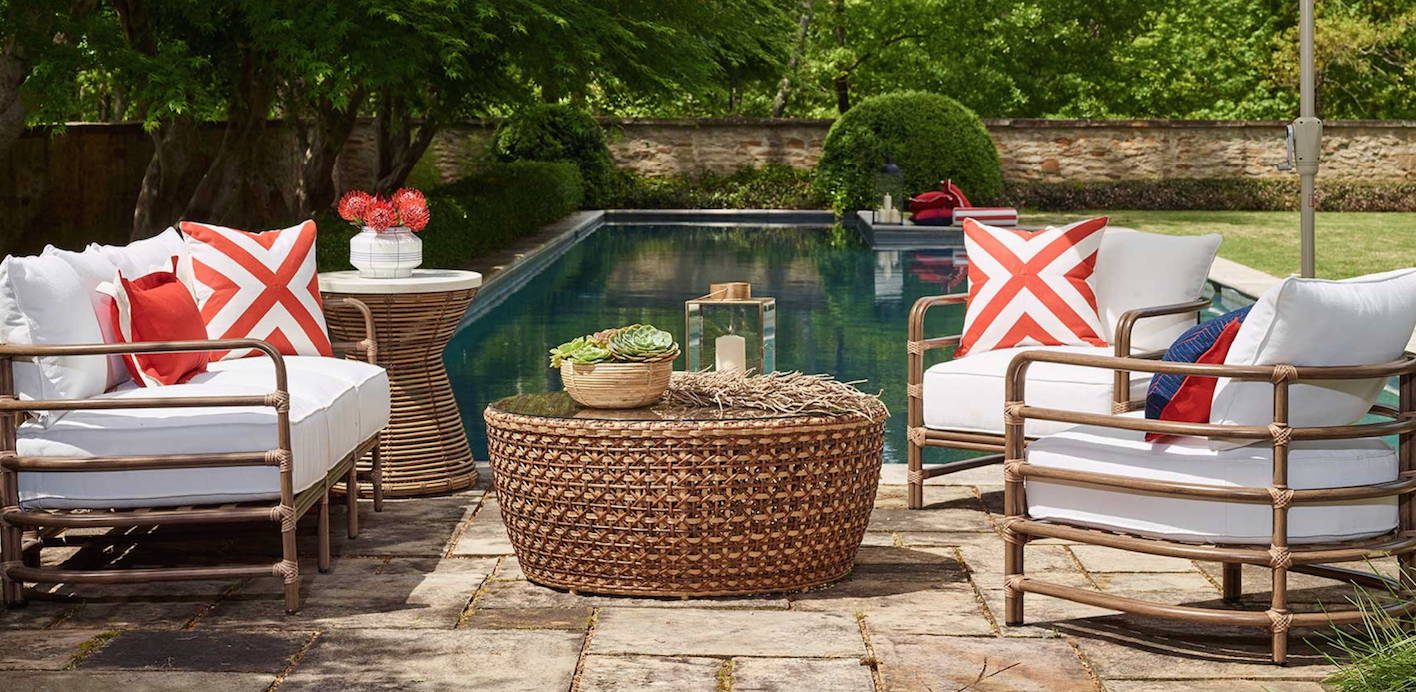 Outdoor Styles
Simply select finish & fabric to make it truly unique & custom for your space.
Slipcovered Outdoors - With a wide array of seating options, the slipcovered collections for outside living creates a feeling of indoor comfort with sophisticated style and yet is as durable as it is pretty, this American-made design uses the finest materials,
and the the slipcover is removable & washable!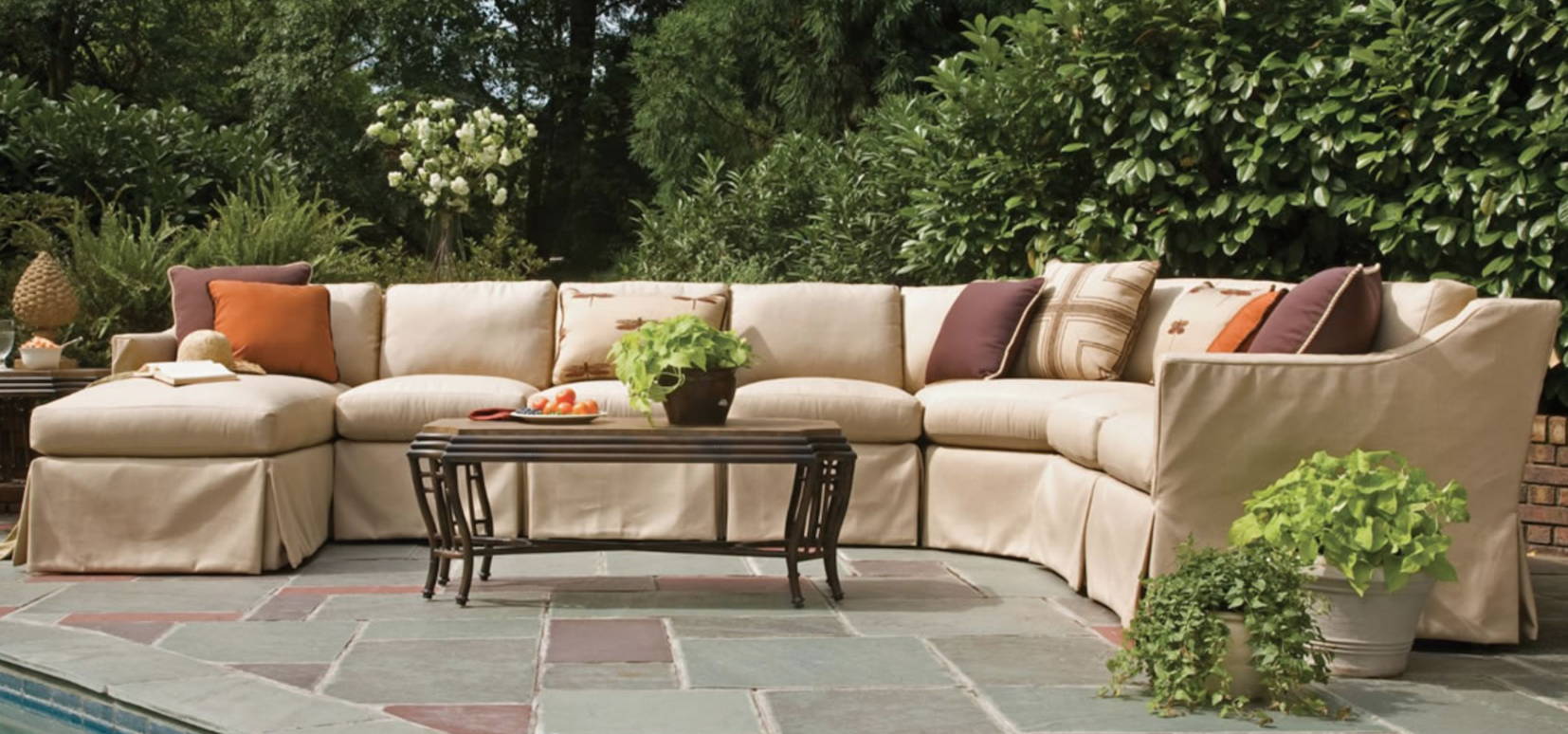 HERSHEY'S Classic Smores
The Classic Smores recipe includes Hershey's Milk Chocolate bars with your favorite graham cracker and marshmallow. You know the drill, just insert the flame!
Gourmet S'mores Ideas:
PEANUTTY VARIATION: Spread thin layer REESE'S Creamy or Crunchy Peanut Butter on graham crackers. Proceed as directed.
CHOCOLATE BANANA S'MORE: Place slices of banana on top of chocolate bar; proceed as above.
CHOCO-CHERRY S'MORE: Cut two maraschino cherries into slices; place on top of chocolate bar; proceed as above.
CHOCO-BERRY S'MORE: Place slices of strawberries on top of chocolate bar; proceed as above.
RASPBERRY S'MORE: Spread thin layer of seedless red raspberry preserves on graham cracker.
FOR MORE SWEET IDEAS: https://www.hersheys.com/kitchens/en_us/recipes/smores.html