April 09, 2022
The Beauty of Driftwood
Driftwood is natures sculpture. Artisans create beautiful driftwood tables, lighting and sculptures for your home.
Weathered by Water, Wind and Sand - Driftwood is Nature's Sculpture
As many beach lovers can agree, finding that special piece of driftwood that has been worn to a silvery white finish from sometimes years of floating in the surf, is a great treasure. Weathered by the saltwater, sun, wind and sand, driftwood takes on a sculptural quality. It is beautiful by itself, but is also a material that artists use in creating furniture and art-sculptures. We are lucky enough to have discovered artisans who have created masterpieces from their collections of driftwood for generations. They learned the craft from true artisans that crafted sculptures and functional art in the Florida Keys and as far away as Bali, decades ago. It is, indeed, an artistic skill to have the eye to place the pieces of driftwood together to create exquisite furniture and art. Each piece has to be placed just so, cut and leveled to be beautiful and functional. It is the perfect blend of art and nature. Each piece is unique and custom made for our clients. We offer a collection of handcrafted driftwood creations that are made into stunning pieces from dining tables, coffee tables, end tables, mirrors, wall hangings and sculptures to lamps and chandeliers.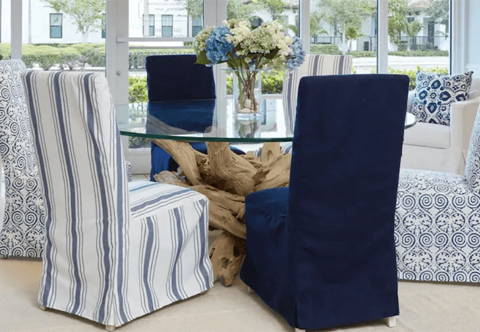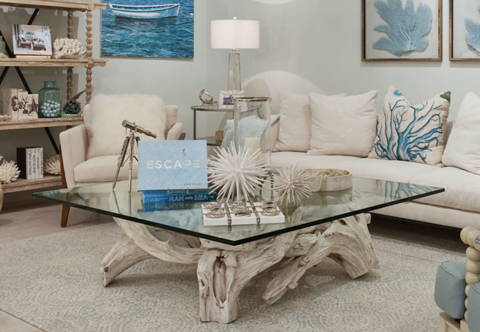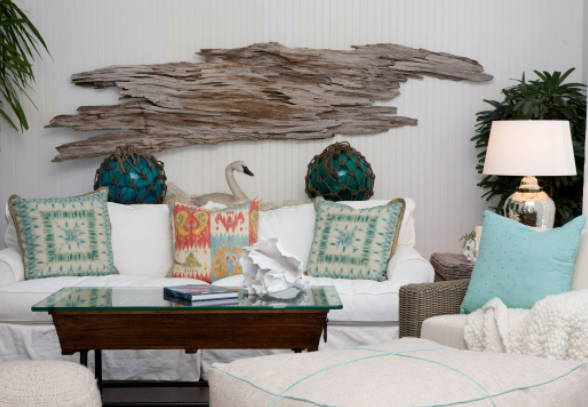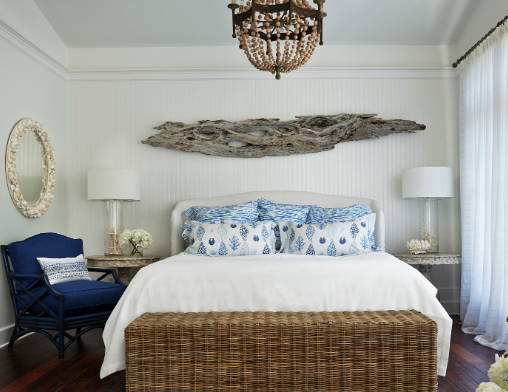 Driftwood Creations
When shopping for a Nautical Rug, it's important to consider the size and style of the rug, as well as the quality of the materials. Some of the best places to purchase nautical rugs include online retailers, like Our Boat House, which specializes in coastal decor. Other options include home decor stores, department stores, and rug galleries.
"In nature, nothing is perfect and everything is perfect. Trees can be contorted and bent in weird ways, and they are still beautiful." - Alice Walker
Incorporating Sculptural Driftwood Creations in our homes emphasizes our love of the sea. The salty driftwood elements are unique treasures that evoke memories of summer days. Driftwood dining tables and coffee tables are handcrafted to order and come in many sizes and 2 finishes - natural and white washed. Each piece is beautifully made to last for generations. Our driftwood Orb chandelier has been a long time favorite. The scale is massive and it makes an incredible natural statement in a dining room or entry. Driftwood Furnishings mix just as well in a Beach Bungalow, as it does in an Oceanfront Estate.
Driftwood is to be treasured. Let it inspire you to add some unique pieces to your home.
We also carry an assortment of large statement driftwood pieces that we have hung as sculpture over a bed or over a sofa. We have hung them many ways and they are perfect accent or statement in any seaside home.
Our collection of driftwood cones are also great for hanging and even planting things like orchids in or turned into wall sconces. Creativity is endless with driftwood.
October 21, 2022
Cozy Cottage By The Sea
A cozy cottage by the sea is what dreams are made of. Create that feeling in your home with simpl...
Read