January 20, 2020
10 Ways: To Add Texture And Layers To Your Coastal Design
10 Ways to add coastal texture style with layers and finishes. Design tips to give depth to your coastal home design and decor.
1. Color Tones
Decorating a home in one color tone is a wasted opportunity. Using only one shade of color looks flat, choose preferably three shades and mix them between rugs, furniture and paint and still achieve a monotone look.
2. Accent Wall
Wallpapering or painting one wall as an accent wall will add dimension to a room without being overpowering.
3. Architectural Details
Adding architectural details to a wall like shiplap or wainscotting will add texture and interest to a room.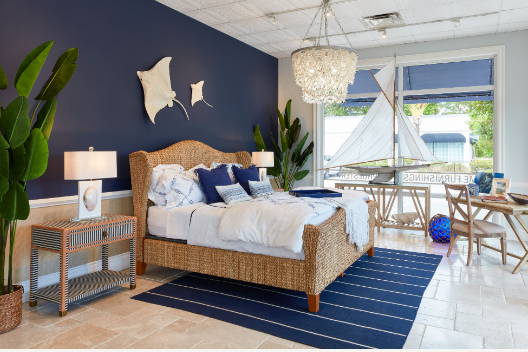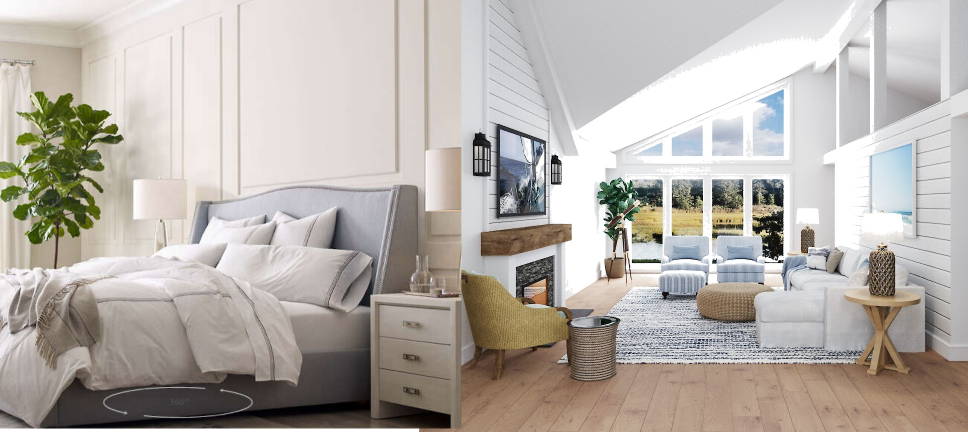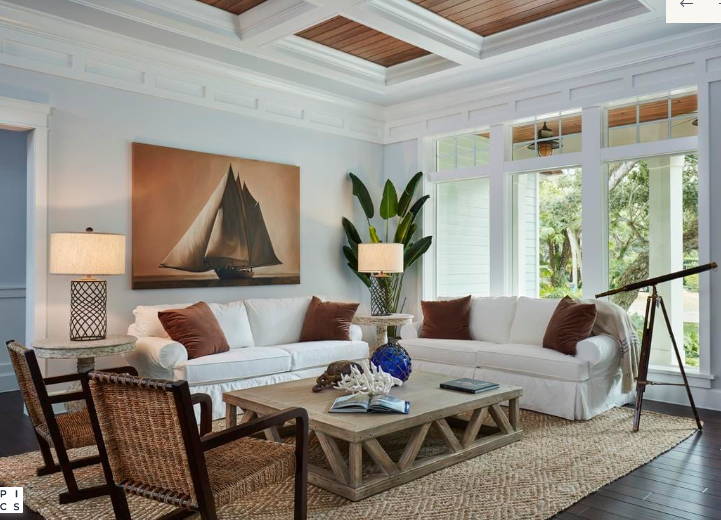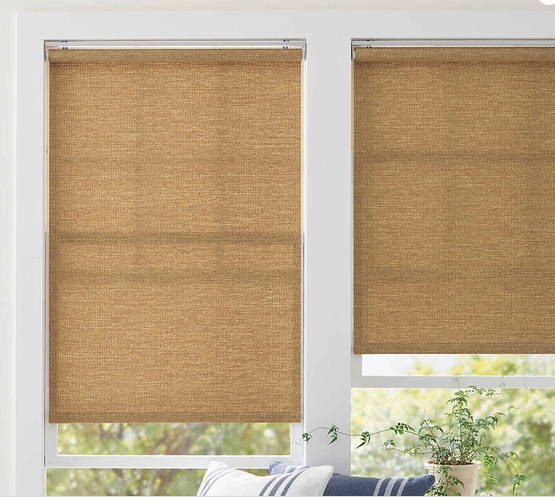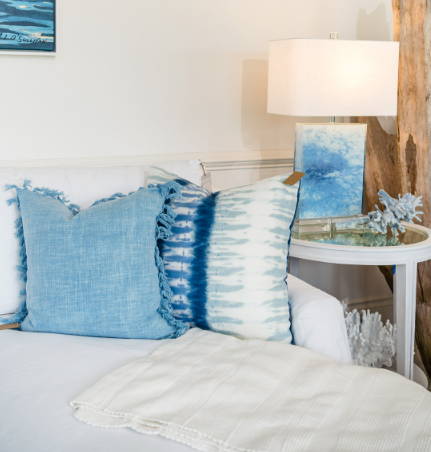 4. Emphasize the Ceiling
The ceiling is an important fifth wall in a room...Many people forget to consider the the ceiling of a room and miss an important opportunity to add texture and layers. Paint or an interesting treatment on the ceiling will add more layers to a room. Painting the ceiling a darker shade to add depth or a lighter shade to add height. A library with a dark paint on the ceiling will give richness and warmth to a cozy space. A dining room with reflective paint on the ceiling will enhance the glow of a chandelier for more drama and elegance. A ceiling painted in a light blue will make the room feel light like a light sky. Wallpaper like grass cloth on the ceiling adds texture and interest. Wood like shiplap on a ceiling will add texture and a coastal feel. Wood beams adds architectural interest and a rustic feel.
5. Mix Textures In Your Fabrics
When it comes to fabrics a mixture of textures is much more interesting than just one texture or type of fabric. For example if you have a linen pillow, mix in some some other fabrics like a knubby silk, a soft velvet or a light cotton.
6. Window Treatments
Add layers of window treatments like a woven shade combined with linen drapery panels. This is an opportunity to add not only layers but a mix of textures.
All Living Room Furniture
Top 10 Things to Have at a Beach House!
1. No beach house is complete without a slipcover sofa or chair. Slipcovered furniture is the perfect foundation for every beach house, whether it be a coastal cottage, a lake house retreat, an expansive oceanfront home or an abode anywhere dreaming of the sea.
2. Bold cabana stripes are a fresh and easy way to make any ocean front home feel beachy and casual. We love using this pattern for ottomans, and throw pillows—the stripe gives any home a coastal feel.
3. Nothing adds color, comfort, or style to beach house like throw pillows. Create an effortlessly coastal style with nautically inspired throw pillows. Add a touch of coastal design to a room or complete an overall seaside design, the options when it comes to pillows are endless.
4. Lush, Plush, Wildly Indulgent....accent your home with the rich colors and exceptionally soft fabrics with our throws and add comfort, warmth and nautical style to your decor. Stay cozy with one of our throws, or curl up on your sofa or favorite chair wrapped up in one of our smaller blankets or signature quilts. For summer, cuddle up with one of our linen blankets, and for those colder evenings, immerse yourself in one of our cotton or wool throws
5. A must have for any beach home! Drop a candle in a great nautical lantern for the perfect seaside accent in your home.Great as a centerpiece on the dining table or on a console behind your sofa. Create seaside warmpth with the soothing glow of one of our lantern and candles.
6. Driftwood Pieces are unique,naturally formed works of art that vary in size and shape and were found deep in the nation's wetlands. Each piece has been molded by the waters in which they were found, and no two pieces are identical. Add texture, warmth, and interest to any room as you create a welcoming, coastal feel.
7. Nautical Chandeliers and Beach House Hanging lights will bring drama and distinction to every room in your coastal home.
8. Accents such as seashell decor are the finishing touches that can turn your space into the perfect coastal paradise. This sitting on the coastal nightstand is a perfect example.
9. Beach homes are all about fresh ocean breezes and sandy sunset views, so why spend time inside when you can be outside? Bring the coastal look outdoors with outdoor coastal furnishings like or built to withstand the elements.
10. Whether you need a place to hide flip flops, somewhere to stash beach towels or an easy way to tote your gear down to the sand, we think wicker baskets are the bees knees.
September 05, 2023
Addicted To Wicker & Rattan! Simply The Best Pieces To Add To Your Home.
We are Addicted to Wicker and Rattan.  Why? Because Wicker and Rattan is timeless and reminds us ...
Read