June 09, 2023
The Best Accent Chairs For A Beach House
Choose the best coastal chairs for your coastal retreat with our comprehensive guide. Accent chairs come in a variety of materials, finishes and sizes, but how do you decide what is best for your room? We have gathered some of our favorite beach house chairs and tips on how to select and style your room.
Whether you are furnishing a large great room in a beach house or a small sitting area in a cottage, a Chic Coastal Style Accent Chair will complete the space and give it character. Coastal Style Accent Chairs come in a variety of materials from Rattan and Wicker to Washed Woods and Painted Finishes. Accent Chairs also come in a variety of relaxed slipcovered styles. We have rounded up some of our favorite beachy accent chairs for your coastal style home. Accent chairs are an integral part of any seating area. They provide extra seating and an opportunity to introduce an accent fabric with a variety of finishes on the frame. Think of it as a a great way to bring personality and function to a room. Accent chairs add another layer of style and interest to a room.
.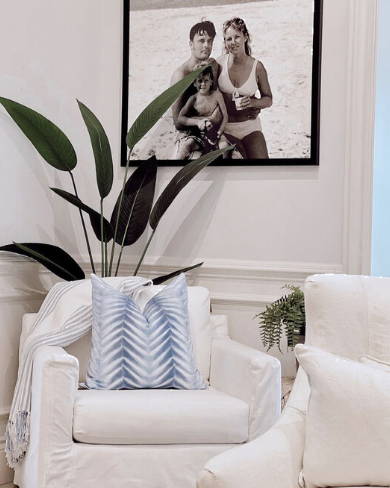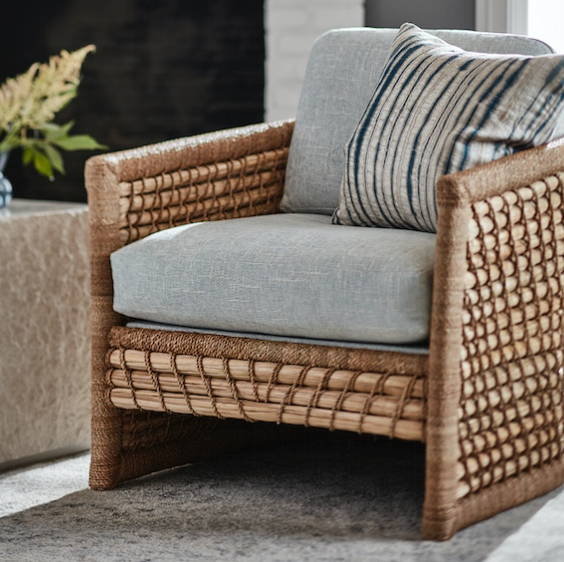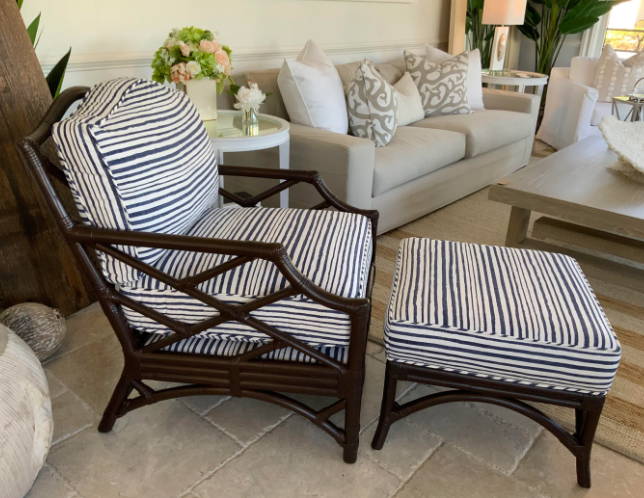 How to Style A Room With An Accent Chair
An Accent Chair feels more welcoming when you style it with a beautiful accent pillow and a throw.... make it feel inviting. Placing a pair of accent chairs opposite a sofa or angled in front of a fireplace creates a comfortable place for quiet conversation and relaxing. Accent Chairs are also great when you need seating but don't have a lot of space. You can select an accent chair that is open in feeling and less bulky then the other seating in the room. Rattan and wood framed accent chairs often have a more open look than all upholstered chairs or sofas.Swivel Accent Chairs are perfect if you want the option to turn the chairs direction. You can face the conversation area or turn for a better view or TV watching. Accent Chairs also are great when paired with an ottoman. Just put your feet up and relax. Accent chairs are not only used in Great rooms, Libraries, and Sitting Areas but also in a bedroom to provide a place to sit and read or just to put on your shoes.
Where to Buy Coastal Accent Chairs
When shopping for Coastal Accent Chairs look for retailers that are known for quality and that can assist you in selecting the best fabrics and finishes for the chair style. Personalized service is so important. Working with a retailer like Our Boat House, where they specialize in Coastal Design and offer design assistance can save you from costly mistakes. In fact, Our Boat house will send you fabric samples and advise you on the best fabrics and finishes for the chair style you are choosing. Not all fabrics and patterns work on any chair. They also can advise you on selecting an accent chair that is the best scale for your room. Other retail options are home decor stores, department stores, and antique stores.
September 05, 2023
Addicted To Wicker & Rattan! Simply The Best Pieces To Add To Your Home.
We are Addicted to Wicker and Rattan.  Why? Because Wicker and Rattan is timeless and reminds us ...
Read