March 25, 2021
Outdoor Living
Outdoor coastal living should consist of sunshine, salty ocean air, and coastal furniture to offer that comfy finishing touch. Our outdoor collection is a mixture of synthetic rattan outdoor furniture, quality teak and performance slipcovered furniture. Nothing says summer vacation like spending quality time in an outdoor space that feels like an indoor room.
Feels a lot like indoor living....but it's OUTSIDE
Seeing as how we are home a lot more than ever, one of the latest buying trends for 2021 has been furniture. Lately, it's not just interior furnishings - we are seeing a buzz in the outdoor furniture market and the timing could not be better.
Springtime means we are all getting outside a little bit more, but SUMMER means getting outside a WHOLE LOT MORE! Who can resist those sunny skies, family cookouts, poolside lounging, croquet, bocce ball, grilling with fireside cocktails and more.
At Our Boat House, we carry all the Outdoor Living SUMMER Essentials you could imagine like furniture for. multi-functional outdoor spaces, weather friendly pieces and outdoor fire elements.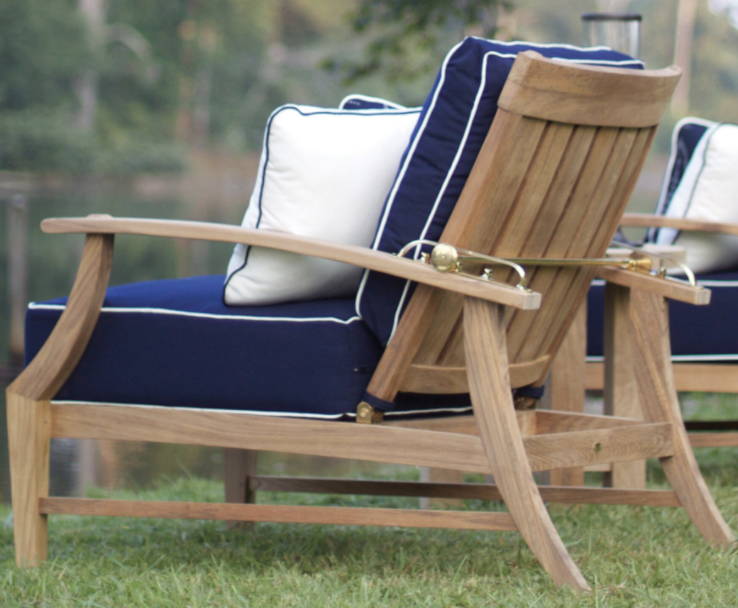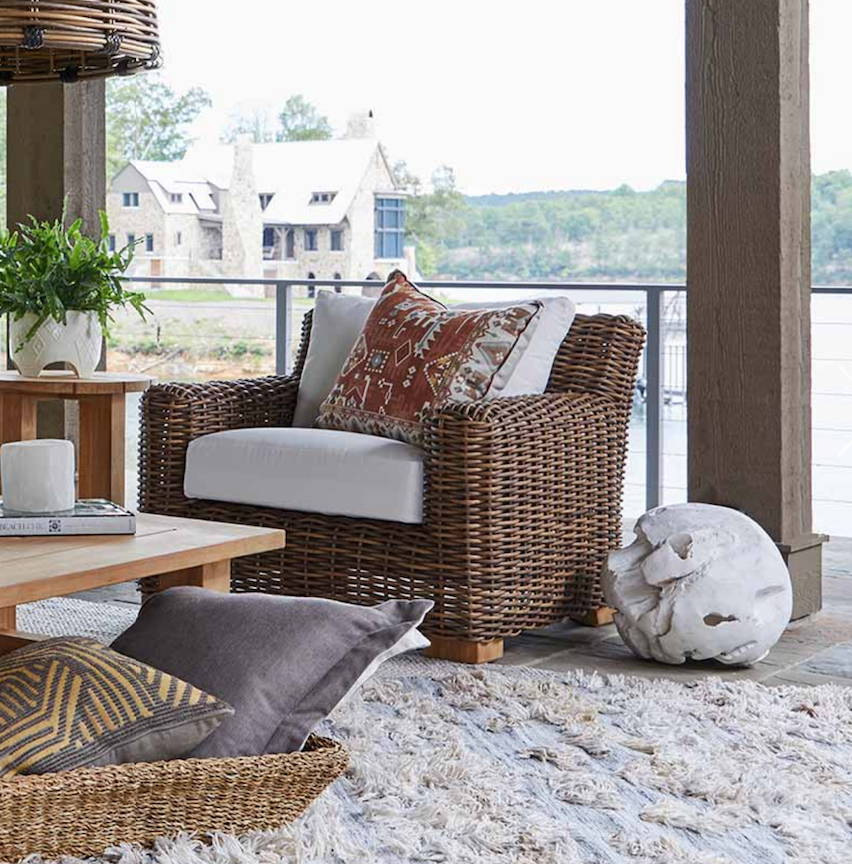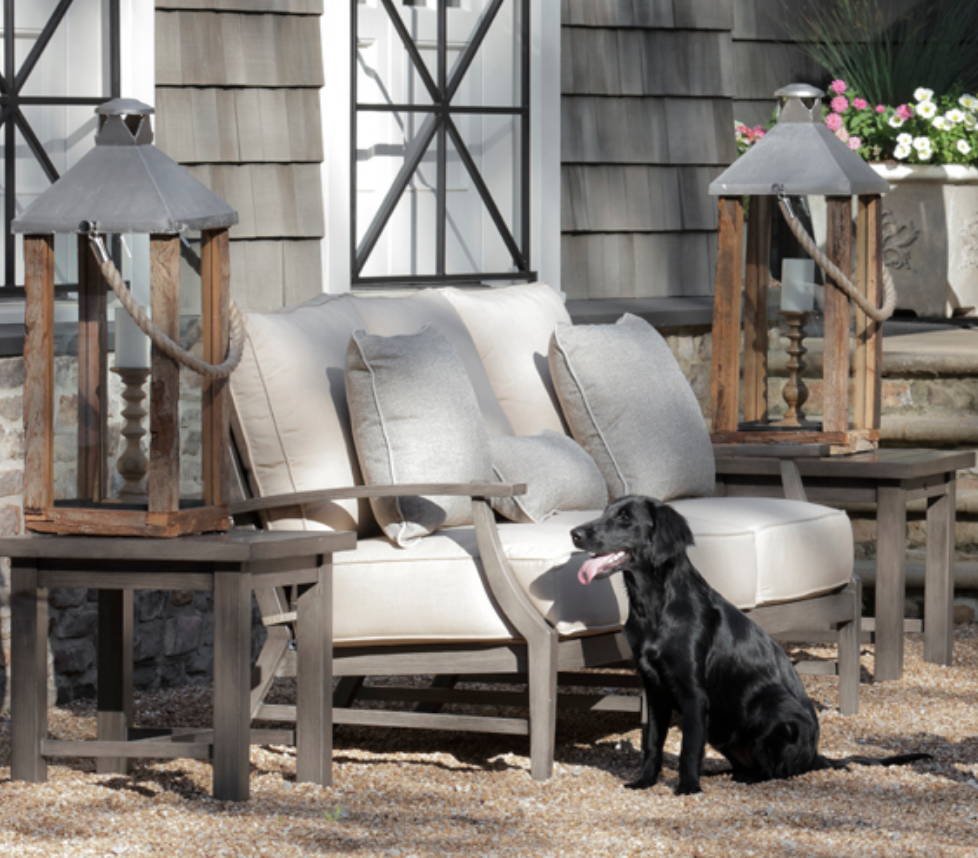 Summer Lovin'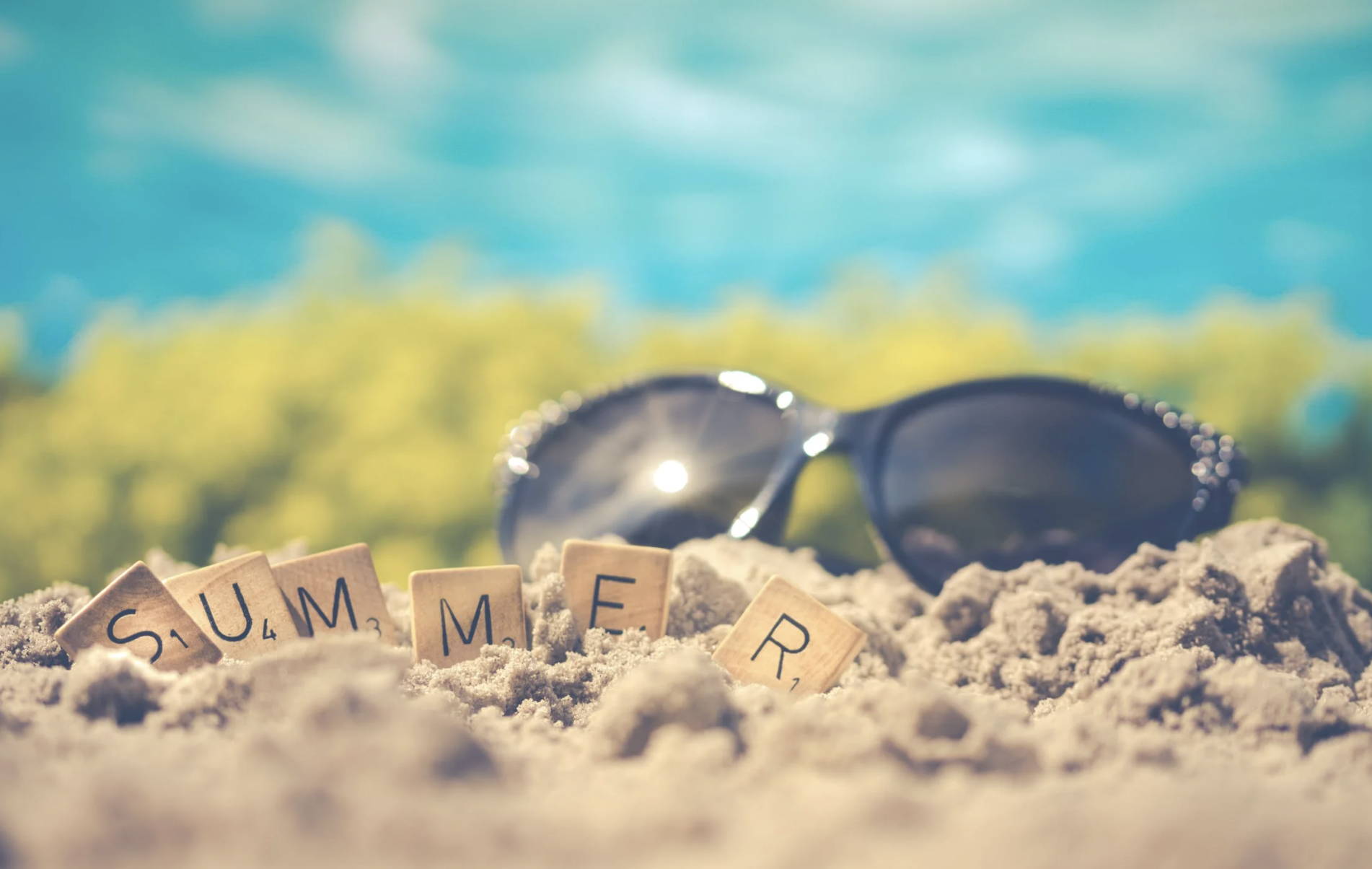 The Crew at Our Boat House believes that Outdoor Living is one of its essential core values. We were built upon our love for the outdoors, specifically beach living. We've carefully selected outdoor furniture that we believe would make our customers happy. There is nothing we enjoy more than envisioning the outdoor pieces from our collections shared with you and your loved ones.
Create an outdoor living space where you'll be proud to host cookouts, family celebrations and spur of the moment happy hours.
Watch the sunset as you relax in one of our outdoor sofas or read a book in one of our patio chairs.
An investment in outdoor living is one you will not regret.
Coastal Outdoor Furniture for the Home
Our curated Collections of Outdoor Furniture truly stand out. Each piece is uniquely crafted while being beautifully timeless. We provide high quality, sophisticated products with traditional and stylish craftsmanship with innovative, durable & diverse materials. Our pieces will be around for generations to come whether it's on the porch, patio, deck, sand or poolside.
Our outdoor furniture collections are made for the harshest salt and sun environments while keeping comfort and beauty of the utmost importance. Our outdoor beach furniture collection includes an exclusive weathered marine grade teak in natural (below). Coveted silvery grey patina found with Oyster Teak is like a finish of aged teak (above), highly sculptural hand-woven patterns, superior resin available in oyster, driftwood and walnut finishes, plus slipcovered pieces that emulate indoor living. A crowd favorite is cast aluminum with a grain finish to emulate real wood but with maintenance free durability. Find long-lasting performance fabrics covering indoor quality cushions with outdoor properties. Accents in solid brass inlays and robust hardware - these pieces are built for beach, porch or patio furniture living.
Outdoor Stylin'
Simply select finish & fabric to make it truly unique by customizing it perfectly for your space.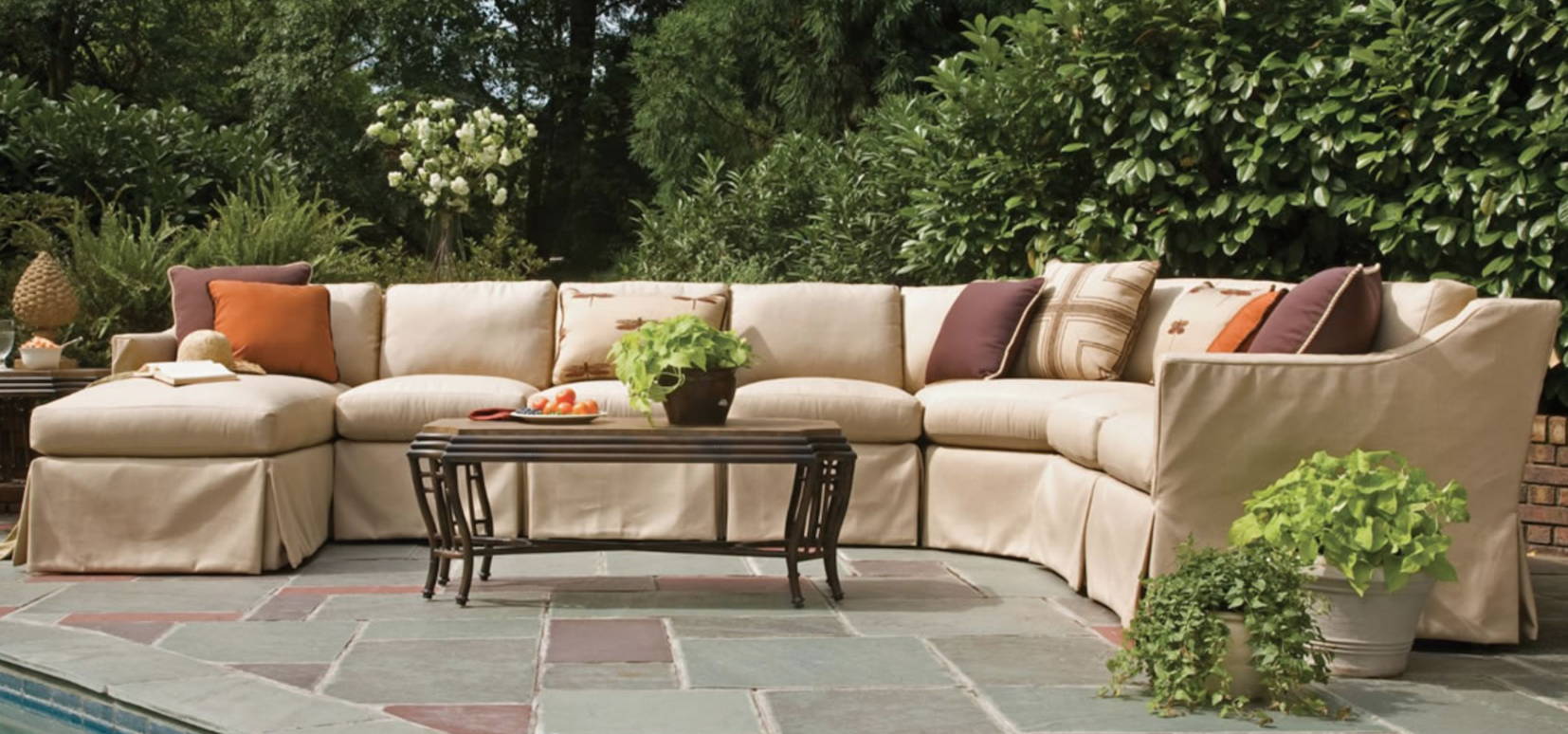 Slipcovered for the Outdoors
Slipcovered Outdoors - With a wide array of seating options, the slipcovered collections for outside living creates a feeling of indoor comfort with sophisticated style and yet is as durable as it is pretty, this American-made design uses the finest materials, and the the slipcover is removable & washable!
Shop Now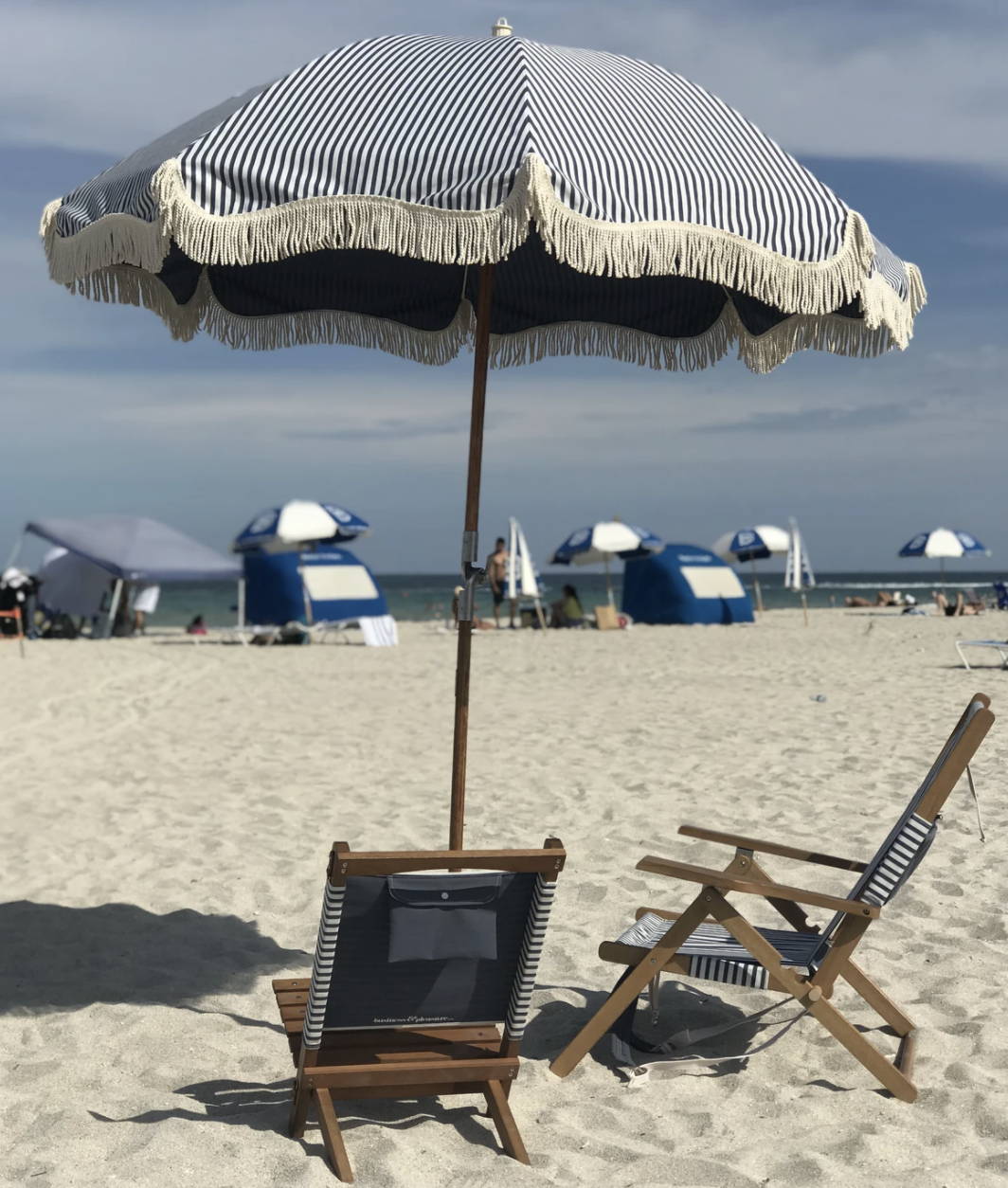 VINTAGE-INSPIRED OUTDOOR ESSENTIALS & MUST HAVES- beachside or poolside
Relax in style on the beach or chill out in your backyard/poolside with a luxury beach chair. All chairs take less than 1 minute to set up and feature a premium hardwood frame, with this renowned umbrella canvas (resistant to UV, mold and water) and sharp vintage-coastal inspired designs that are sure to impress. And perhaps most importantly, they're incredibly comfortable!
Shop Now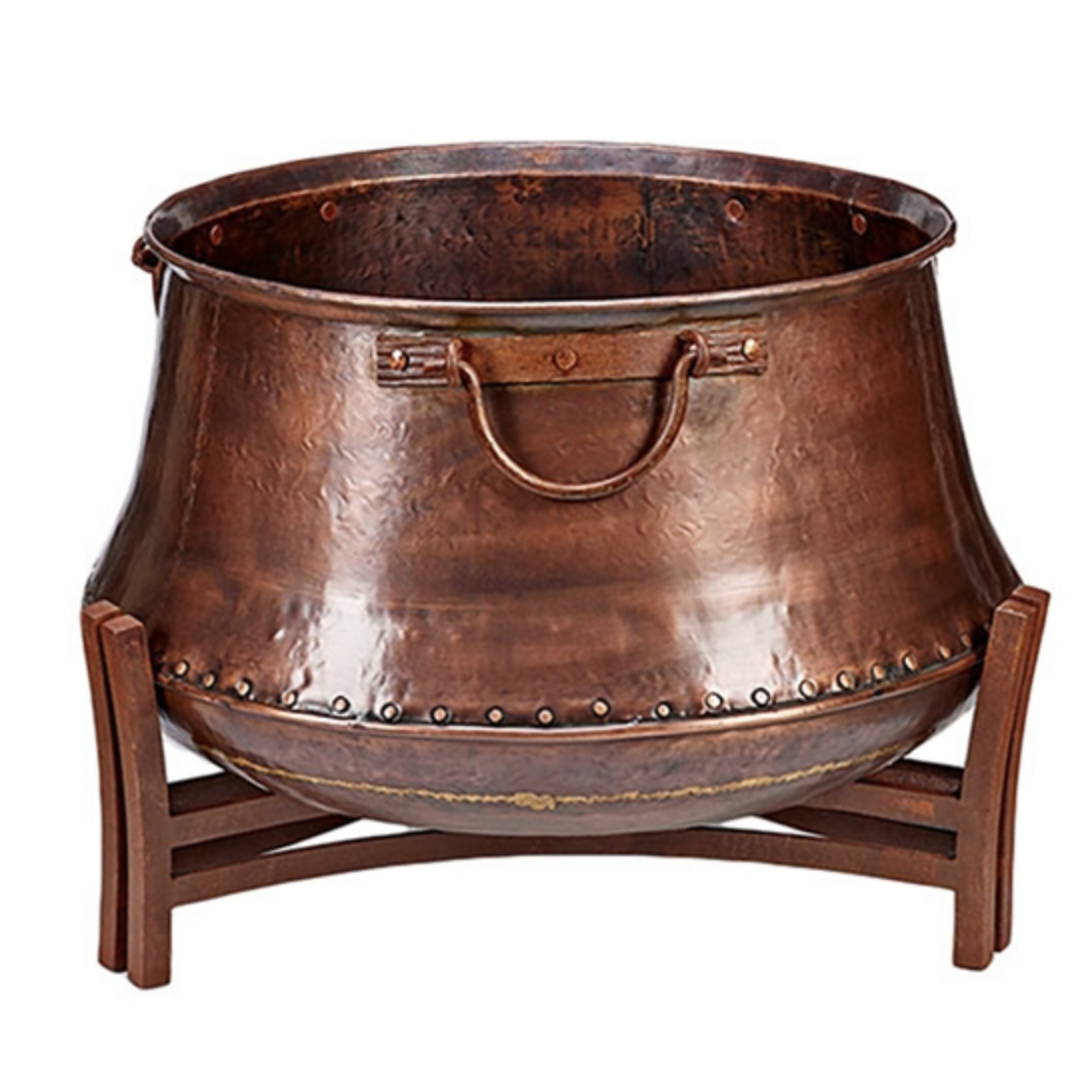 The Unforgettable Outdoor Element: fire
Who doesn't love a day at the beach, a good meal outside followed by a night cap by an outdoor fire? And we don't mean a huge bonfire at the beach- we mean an intimate, relaxing setting under the night sky illuminated by fire.
Shop Now
Who doesn't love a day at the beach, a good meal outside followed by a night cap by an outdoor fire? And we don't mean a huge bonfire at the beach- we mean an intimate, relaxing setting under the night sky illuminated by fire
For years and years, people have been drawn to the element of fire long before our ancient ancestors used it for warmth, protection and cooking food. Basically, the use of fire was critical for man's development. In today's world, with all our modern electric lighting and cooking appliances, good ole fire is associated with comfort rather than a crucial need.
The University of Alabama in Tuscaloosa researched fire and the impact it has on humans. The answers? Fire lowers blood pressure. The information obtained was that when humans are sitting fireside, the senses become encompassed in the experience. The potential to reduce anxiety comes from the calming, yet fixed attention to the flame.
At Our Boat House, we could not agree more, therefore we have a curated collection of fire elements available for your outdoor living spaces.
October 21, 2022
Cozy Cottage By The Sea
A cozy cottage by the sea is what dreams are made of. Create that feeling in your home with simpl...
Read