January 20, 2020
Coastal DIY- Ombre Seaglass Windchime
Coastal ombre seaglass windchime DIY. A sea inspired coastal DIY.
One of your favorite DIY's is back! The ombre sea glass wind chime DIY is a reader favorite. Summer is here and it's the perfect time to collect sea glass at the beach. Put those seaside treasures to use and create a beautiful wind chime.
Seaglass windchime DIY instructions:
Lay out the seaglass by color in ombre.
Attach the string to the driftwood branch to form a hanger, tie knots and dab a bit of glue to ensure a tight hold.
String the seaglass together with the craft wire, from light to dark pieces will give you the ombre effect.
Last step to create your ocean art is to attach the seaglass strands to the driftwood branch and viola you have made a beautiful masterpiece.
How to select the best rug to properly anchor your space...
Rugs can be the foundation and starting point of every space....
Clients often ask, where do you start in choosing the colors and elements in a room? We believe most rooms start with the foundation of a rug because it anchors the space and creates a base of texture, color or pattern that has the most impact. Rugs are a great jumping off point. Start with a wonderful rug and the rest will fall into place. It sets the tone of a room, whether that be a casual elegance or a more formal feel, rugs set the mood..
Choosing a rug that reflects the overall mood of the room, that special color or neutral you are going for, as well as the texture and the way the room is used, is critical to making the right selection. Rooms that have high traffic with kids, dogs, sandy feet, require a performance rug that can with-stand the use. Indoor/outdoor rugs are a great choice in high traffic areas. Rugs come in a variety of materials. Everything from polyester for high performance to cotton, wool, sisal and jute.
Rugs are good for indoors as well as outdoors. Rugs made for outdoors are designed and constructed to stand up to rain, sunshine and the elements. From the backings to the materials used to treat the product, manufacturers produce these rugs to be durable and they are also a great choice for indoors. Outdoor rugs create an inviting setting on any patio or deck.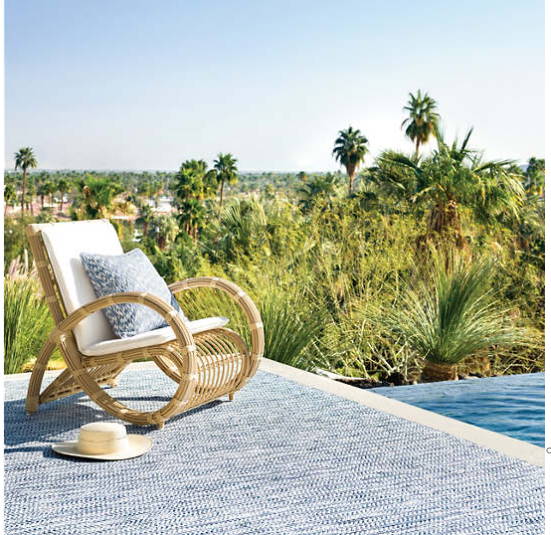 Our Coastal Blue Indoor/Outdoor Rug, handwoven in sun, rain, dog and child-proof performance yarns for peace of mind. This classic herringbone design is perfect indoors or out. We love the watery blues and it is one of our best seller's.
Rugs are the foundation of a room; the anchors of the space. Whatever your rug choice, the room won't be complete without it!
We designed this coastal living room with natural elements in mind and started with this wonderfully textured jute rug.
September 05, 2023
Addicted To Wicker & Rattan! Simply The Best Pieces To Add To Your Home.
We are Addicted to Wicker and Rattan.  Why? Because Wicker and Rattan is timeless and reminds us ...
Read