February 15, 2022
Interior Design Mood Board
An interior design mood board is the key to conveying a design concept to a client. It represents the look and feel of the room design. It brings designs to life!
Envision your room with a professional Mood Board.....
One of the most effective ways to convey the design of a room is with an Interior Design Mood Board. We use Mood Boards to bring designs to life. They represent the overall look and feeling of a room. Mood Boards contain images of fabrics, finishes, rugs, furniture and lighting that we curate specifically for you. It allows our clients to visualize everything together and see how all the elements relate to each other, before it is made into a reality. Mood Boards set the tone and atmosphere of a room. A well-designed Mood Board will clearly represent what the room will look like when it's finished. This ensures that we are capturing what the client envisions and eliminates any miscommunication. We provide Mood Boards along with Floor Plans for every room in the houses we design. It's at this stage that changes can be made, if there are some items that the client would like to change or if they want to go in another design direction completely. This is the time to identify that...Before any renovations are done or any furniture is ordered. Providing a clear communication of the design eliminates costly mistakes in the long run. We often provide a few options on Mood Boards based on our clients particular tastes. We believe the rooms should reflect the homeowner's tastes and lifestyle.
"Your home should tell the story of who you are, and be a collection of what you love."...Nate Berkus
"We aim for 'Wow' in every room we design! It isn't a success unless you love it!
Your home should reflect your taste and be unique to you. A good designer will listen carefully to your needs and create a home that suits your lifestyle. It's important to have elements that speak to your soul and inspire you to live your best life. A great design should provide comfort, beauty and timelessness. Each room should have some wow-factor and make the best of where you live. You should feel a welcoming sense every time you arrive home. We use Mood Boards as an essential part of the design process to help our clients understand and visualize the design concept. The Mood Board should tell a story and go a long way in capturing all the elements. It should stimulate the senses and inspire! We have become experts in virtual design and the entire design process can be completed for you right from your home. There is no need to travel for meetings. It is equally effective virtually as it is in person. We have had an online design service for many years, well before the pandemic hit. We design homes all over the country, as well as some of the Islands. It has saved our clients time and money.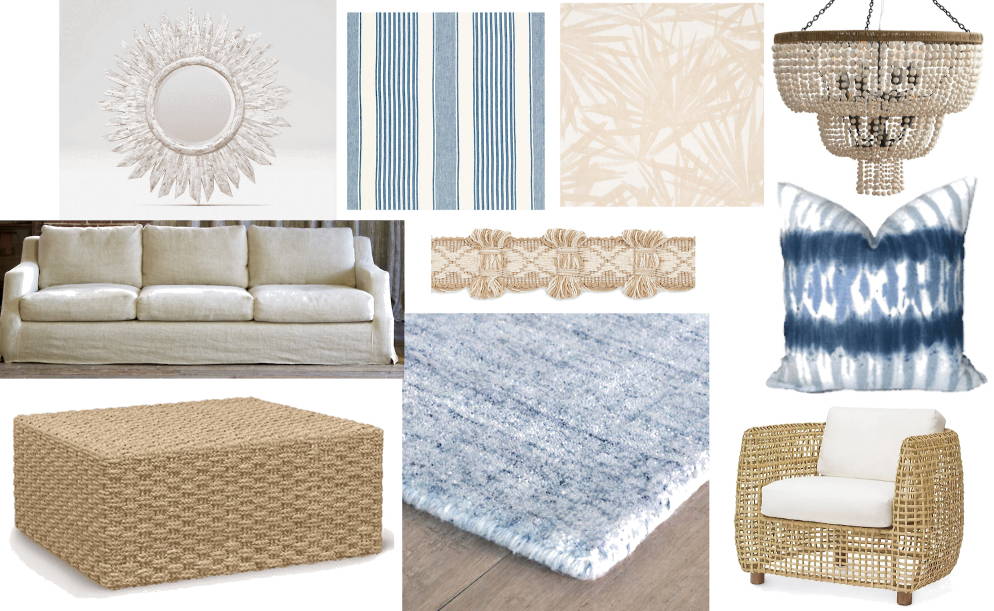 We often use natural materials in our designs that are not only beautiful, but also wear well to ensure your home is worry free and that kids and dogs are welcome. The last thing you want is to create a beautiful room that you are afraid to use and causes stress. Durable materials and easy care are essential for a relaxed and casual home.

Before and After!
We recently completed a favorite project in the Hamptons. It was actually a VRBO home that we rented. It was in a beautiful location and on a picturesque tidal cove off the bay. We loved the location but the furniture and the interior were tired and in need of an overhaul. We got to know the owners and shared some ideas with them that would transform the home, even on a tight budget. They loved our ideas, and a few weeks later we were sending them designs and Mood Boards virtually. A new reface of shiplap and stone on the fireplace, fresh paint colors throughout the house and a selection of casual beach style furnishings and the home was transformed into a light and airy, upscale beach retreat. As a result of the redo, they are now able to command triple the rental rate. It was a fun project and we received many referrals from the happy homeowners. Since then, we now also specialize in the Airbnb or VRBO rental homes. It always amazes us to see how many vacation homes in beautiful locations have old worn out furniture and dark dreary walls or floors. It is usually simple cosmetic changes and some inviting furnishings that make all the difference.
In the image above, you will see the before photo of the living room in the lower left. It was dark and dated. The walls were a drab cream, the fireplace was from the 1980's and the red furniture was worn and uninviting. The Mood Board for the living room is on the top left. Our concept was to paint the walls, ceiling, trim and bookcases a crisp white to brighten the entire room and let the water view be a focal point. The re-do of the fireplace consisted of shiplap to the ceiling, a new stacked stone around the fireplace opening and a new stone hearth with a natural wood beam mantle, as well as new nautical sconces by the fireplace. We put a new flat screen tv over the fireplace instead of it sit on an old chest on the floor. We added new wide plank natural wood floors and a large slipcovered sectional with a chaise lounge to give plenty of comfortable seating. We included extra seating with new overstuffed club chairs. Natural rattan and wood accent tables, rope lamps and a lovely soft blue indoor outdoor rug completed the room and created the serene setting that large families could enjoy. The After image of the living room is on the right. As you can see, the Mood Board closely resembles the After image. This was a complete transformation with relatively simple fixes. If your home is in need of some freshening, we can help. Make your home into a reflection of you that welcomes you home every time!
What's the best way a homeowner can convey their tastes to their interior designer?
Once you have found an interior designer who's work you love, then most designers will have an in-depth meeting with you to discover how you live in your home, what your lifestyle is, what the architecture of the home is and what your tastes are. A good designer will ask a lot of questions to get to know you and listen carefully to your wants and needs. Your home should be a reflection of you. Some of the ways to convey your tastes are with magazine photos of rooms you like or Pinterest photos. A picture is worth a thousand words. It's a good idea to spend the time collecting images of things that inspire you. It could be a whole room or just a fabric in a room that you like. Your fashion style is often another way to discover your tastes. Your favorite colors and patterns you wear are often what makes you the happiest in your home as well. Your favorite places to travel can be a great inspiration. Do you have a favorite resort on an island like Tahiti or a favorite hotel on the Italian coast? Wherever it is that makes you feel relaxed and inspired can be incorporated into your home. The more you can covey what you like and what you don't like the better your interior designer can read and interpret your tastes.
October 21, 2022
Cozy Cottage By The Sea
A cozy cottage by the sea is what dreams are made of. Create that feeling in your home with simpl...
Read