August 28, 2020
Dining Essentials
Essentials for The Perfect Dining Room...
Essentials for The Perfect Dining Room
Since the dining area in every home varies, at Our Boat house, we like to offer a nice variety of dining room pieces for any style of dining area: tables, sideboards, hutches, chairs, benches, chandeliers, light fixtures and table top items like plates, platters and linens.
Creating a dining suite doesn't mean matching the tables, chairs, sideboard in all the same material & finish. It's a combination of harmonious pieces that reflect the needs of the room and your style:.
- How many diners do you usually have?
- Do you have a lot of place settings and china to store?
- Is the room casual or formal where you chandelier has crystals or shells?
We have all the components you need for a complete dining area.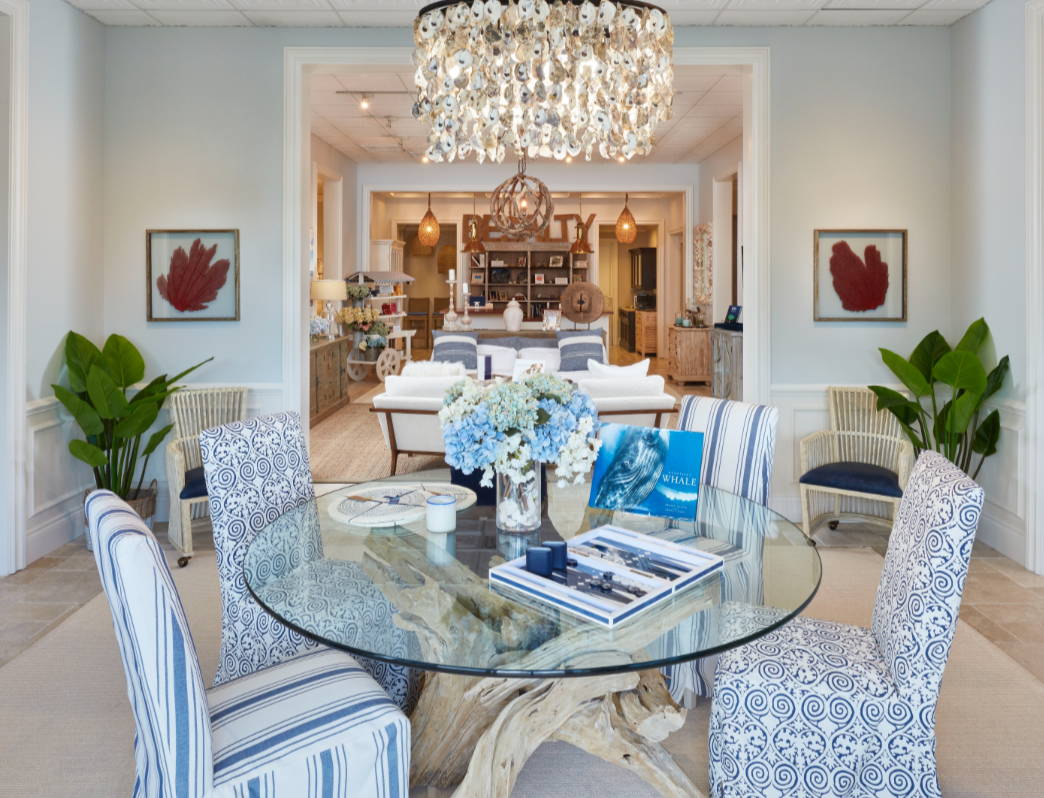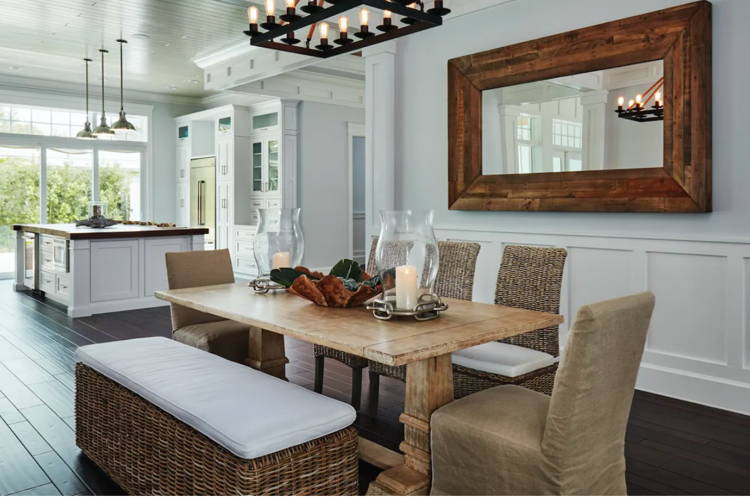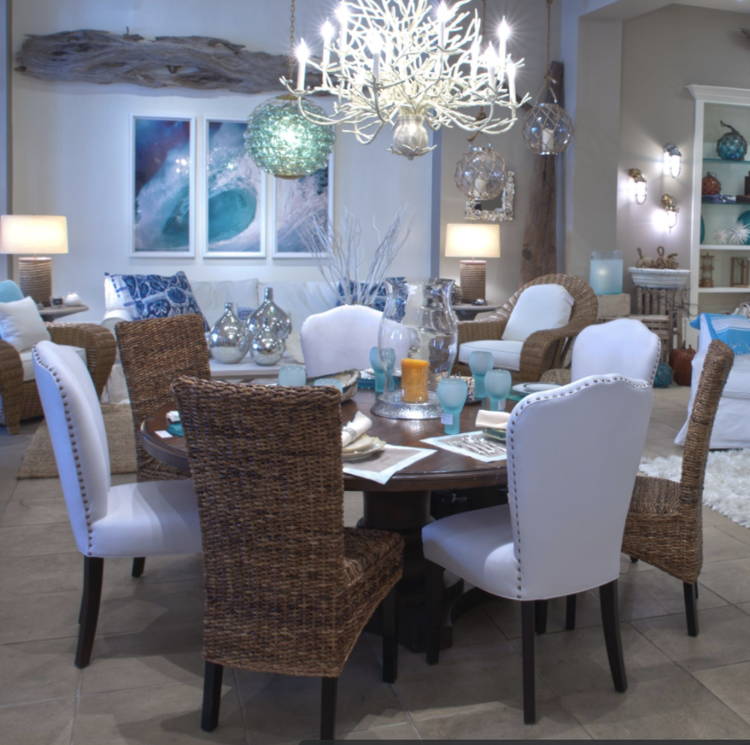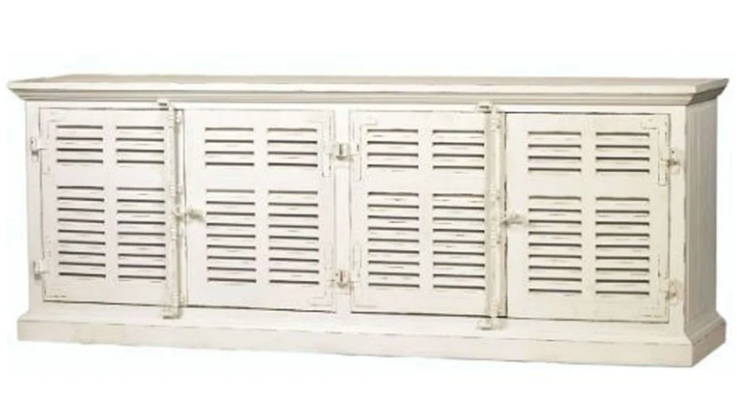 As for the dining table, usually the table is the focal point of the room. Tables vary in shape, size, style and materials.
Rectangular tables, most this shape are between 35" to 42" in depth. Determining the length would be what suits the room dimensions. For a table that seats four it needs to be about 48" long. For seating four to six guests, try a minimum of 5' or 60" in length. Use a table that is a minimum of 76"- 80" for For six to eight diners. If you entertain often and you have the space for expansion, a rectangular extension table is ideal or one with 12" or 18" leaf inserts. We offer a variety of rectangular table styles: farmhouse driftwood base/glass top, two tone tables painted base, stained top, zinc top tables and waterfall style tables.
Best lighting for Rectangular: Linear Chandelier, Oval or round chandelier. This shape is the most flexible when it comes to lighting styles & sizes.
Round tables are perfect for the smaller dining spaces or eat-in kitchen tables. A round table is easier to navigate around simply as it has no corners. In regard to sizes, round tables that would easily seat four diners, should start at 36". Having a pedestal base on a smaller size provides more leg room. The next size up for four to six guests would be 42" to 48" in diameter. When looking to accommodate more people, say eight the best size would be 72". To add even more seating, some round tables offer a center extension piece or leaf to expand the table, thus creating an oval shape.
For round tables, our best seller is the Hampton Driftwood Table. The base is custom crafted from driftwood in a white wash or natural tan finish. The glass diameter drives the base size and formation.
Lights of the Round Table
The ideal lighting choice for a round table is circular-halo with dropped accents, a wreath-style with lights on the inside or an oval chandeliers. You can't go wrong with hanging a stylish, single pendant. Make sure the diameter of the table is wider than the fixture. A pear shaped fixture also goes well over a round table. Compliment the table finish and overall room aesthetics. If your room style is fairly neutral, maybe keep a fixed lighting piece neutral as well. The only fixture to avoid would be linear.
Have a Seat!
Find the perfect dining room chair for any style table. A dining chair can not only reflect your sense of style but elevate your ability to entertain all kinds of guest. A nice bench for family groups, a slipcovered chair to highlight style with color or a beautiful pole rattan arm chair for the head of the table. At our boat house we have a little bit of every kind of dining room seating for you.
Sideboards & Media Cabinets
What's in store next - Sideboards, Consoles & Cabinets:
For storing dinnerware, plates, linens, silver and more - the best option when you have the space is a nice sideboard. If you simply need a landing space for dishes and platters, then a console table works well. The best sideboard has ample storage, whether it is doors or drawers. Remember to allow enough space to open doors and drawers with ease. There are a number of wood species and styles for sideboards so your options are unlimited.
Our best selling sideboards are the East Hampton Mirrored Sideboard, the Hamilton and the Server with Plantation Drawers. The dining table, chairs and sideboard no longer need to be "a set". These pieces can be blended with complementary finishes and features that add interest and purpose to the space. If you choose a mirrored sideboard maybe hang some beautiful art over it and when using a solid door/drawer side board, select a nice mirror.
October 21, 2022
Cozy Cottage By The Sea
A cozy cottage by the sea is what dreams are made of. Create that feeling in your home with simpl...
Read