A BLISSFUL BEDROOM REFRESH
& the Basics of a beach-worthy Boudoir


"When we relocated beachside, we noticed there's no shortage of guests for those extra rooms
when you live in Florida. That's when we decided to turn to
Our Boat House and UP our bedroom game..."
-Ed &Kathyrn H.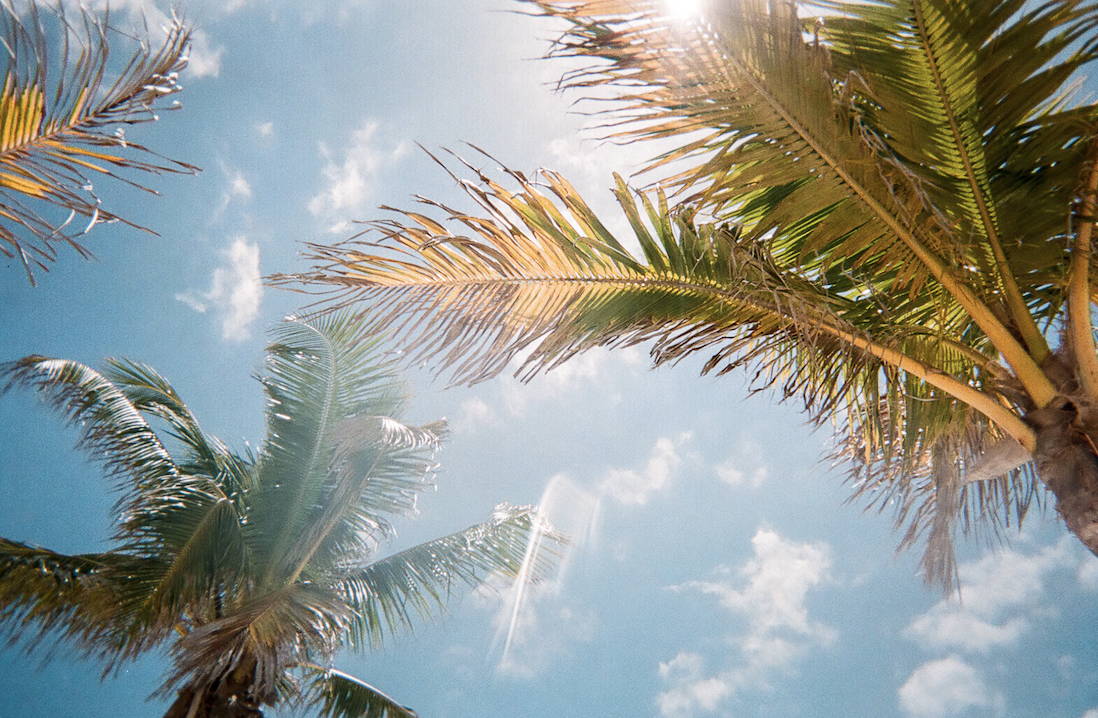 When clients come to us for help, Our Boat House is ready, willing and able. To begin the journey to furnishing their condo, due to the amount of upcoming guests, we decided to start with the bedrooms.
The image below is the final result of a guest bedroom completed concept with a variety of blues & whites. We will show you the steps we took to get here. To begin, we tried to provide best use of the space for the client by keeping in mind they strongly wanted a King
size bed in two of the three guest rooms in their 3-story beach condo.
The goal was to keep it fresh, fun and relaxing as the guest list ranged from baby, toddler, teens to adults.
Due to the narrow shape of the room, but need for extra storage, we went with a mahogany headboard, distressed and painted white. The bedside chests, painted to match provide three drawers for extra storage. The striped linen duvet in cornflower blue accented by coral pillows and blue euro shams adds texture and style to the bed.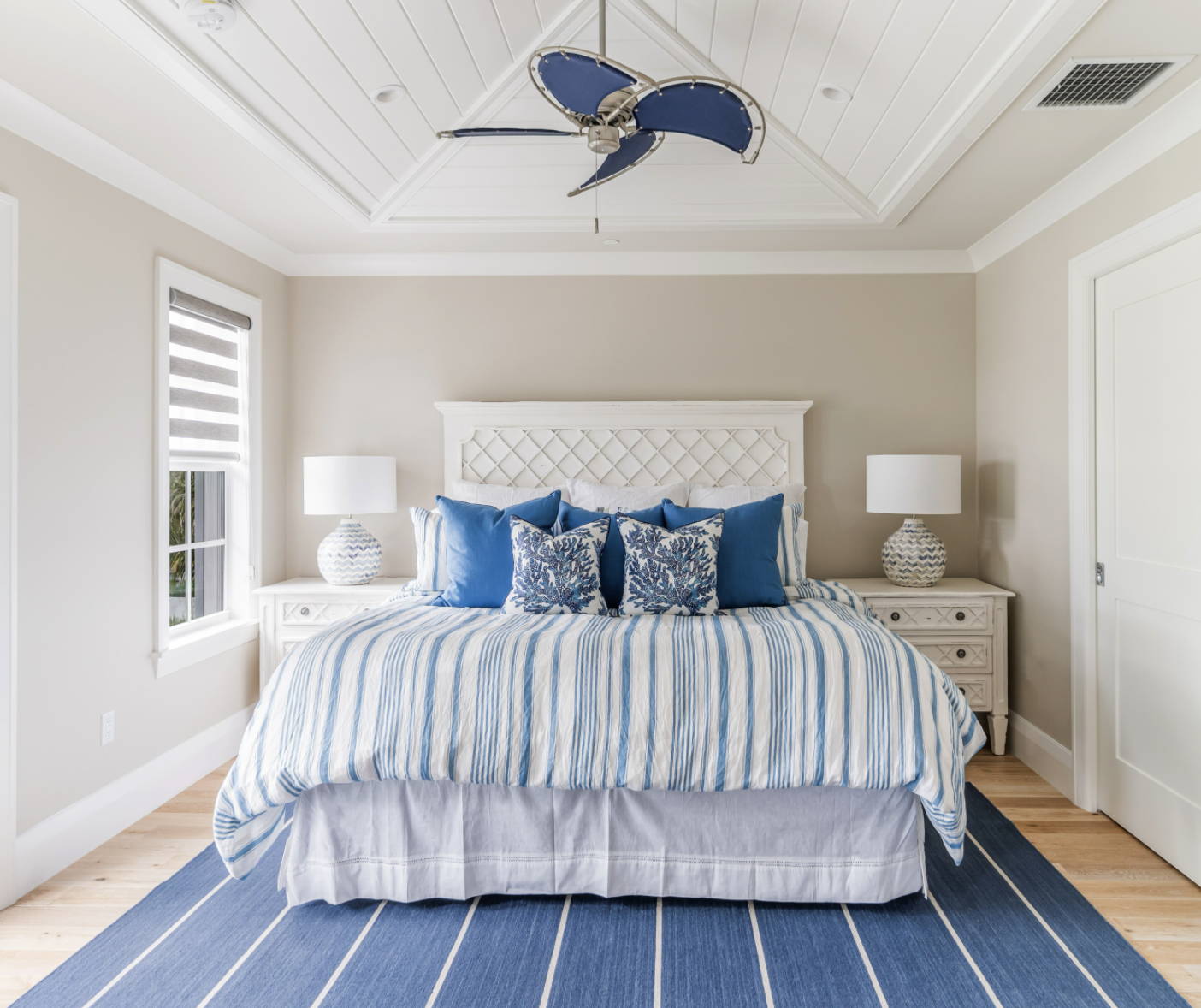 Guest Bedroom - Floor Two Image


Yes, we can all easily sleep on the beach, to the sound of the ocean,
warm sun on our skin, but to get the best amount of R&R, eventually
- you need to go to BED!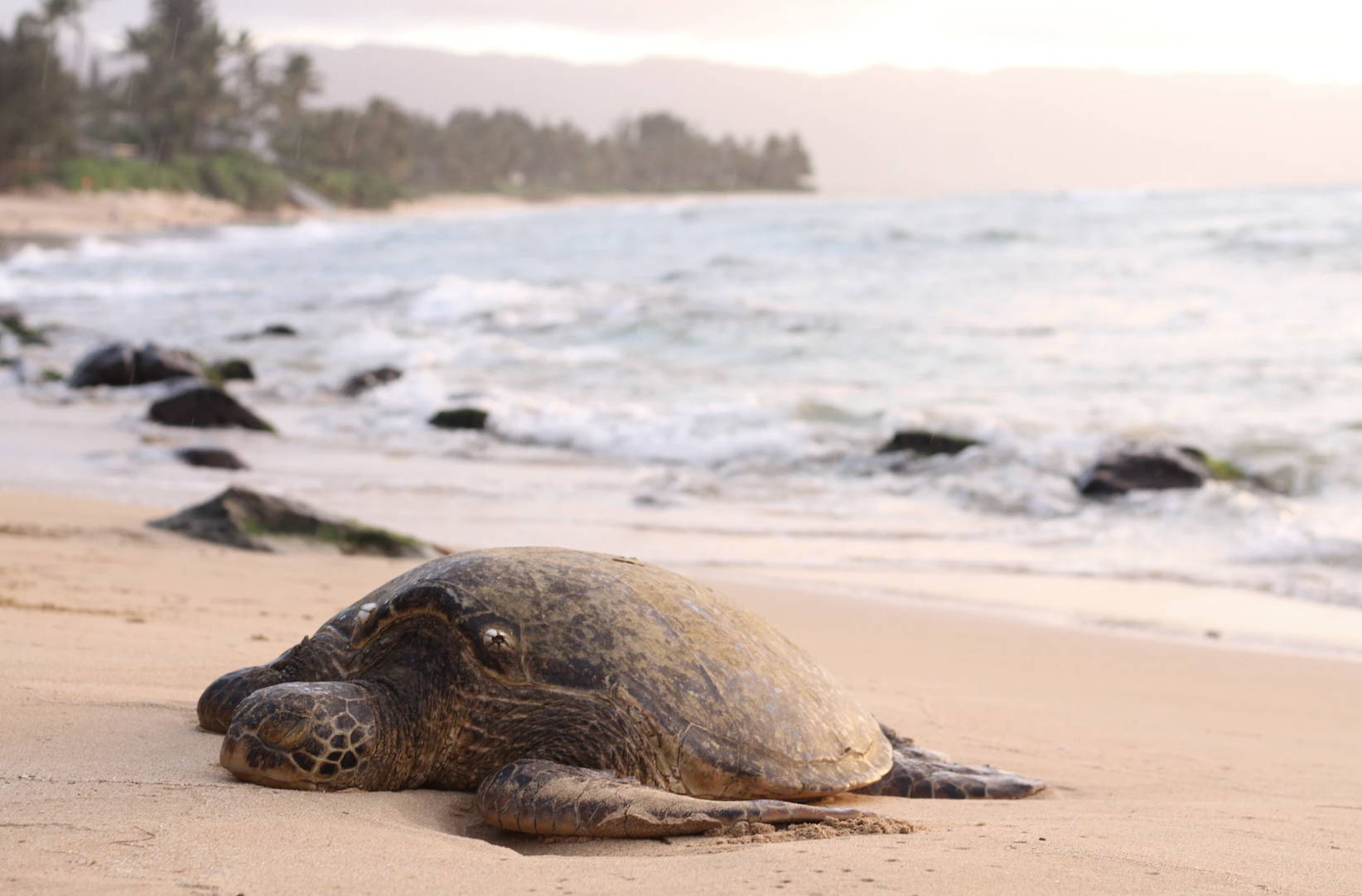 Who doesn't love a day at the beach, tired from the sun and sand - then, you shower the day away, then slide into clean cotton sheets. It's simply the best. Linens not only add comfort, they add style & color too.
Crisp, airy, cool cotton sheets are the perfect base for the modern bed. Comfortable in all seasons, woven from long staple cotton in 300 thread count for serious snoozing, this breathable and crisp percale bedding will soften with use and every wash.
The St. Annes Duvet is a linen blend duvet with an off white background with yarn dyed stripes woven into the body in a gorgeous blue. Classic, yet versatile.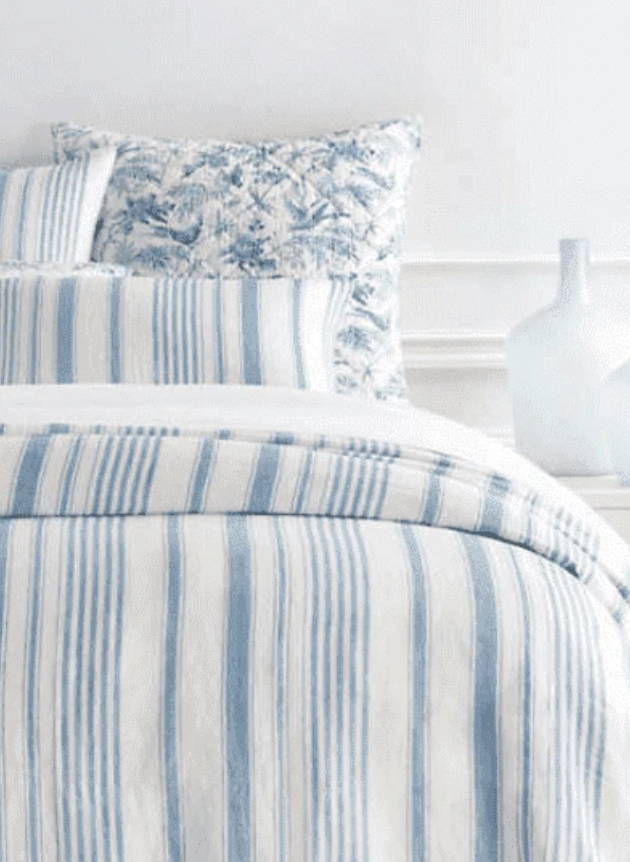 From Concept to Completion


The steps taken to create this guest bedroom oasis are as follows:
I. From an in-home design appointment, the team takes diligent notes regarding colors, styles, finishes and budget.
II. The space is measured and drafted to plot furniture placement.
III. We scour our curated collections for the right pieces and add them to selection boards.
IV. Then, we offer options based on the desired design criteria.
You may not see much of a difference between the electronic concept board (below)
and the image of the real room (above) & that's the whole idea!
As a client, you will know exactly what the room will look like prior to installation.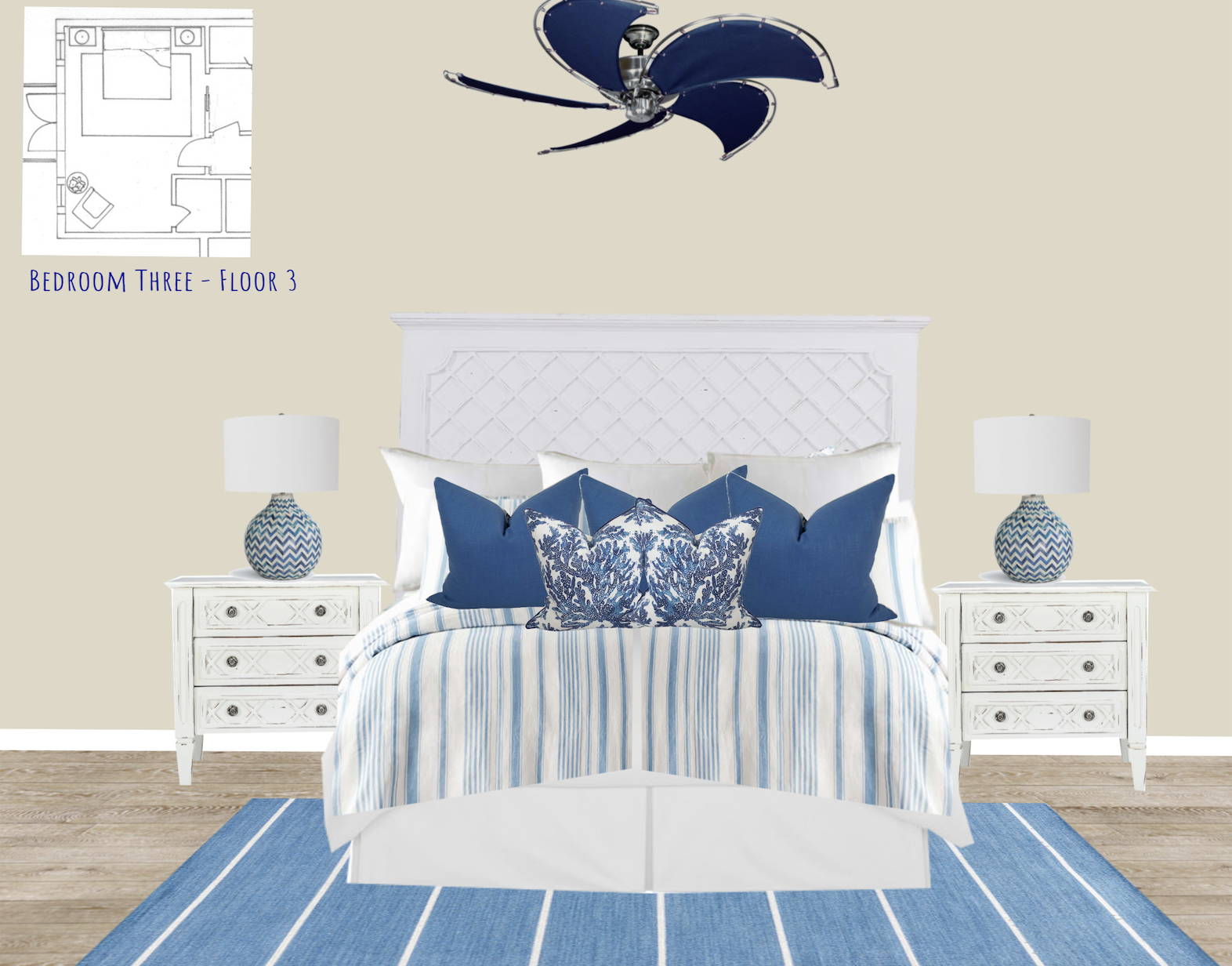 Despite everyone's computer screen having a different resolution, we feel like the concept board is an essential part of the design process. Whether the project is near or far, the electronic concepts provide an excellent view of what your space will look like when it's all said and done. Our goal is to convey the finished look; from the furnishings, textiles, accessories and more. The items on the concept board are selected and a variety of pieces are chosen until we finalized with you to obtain the completed design.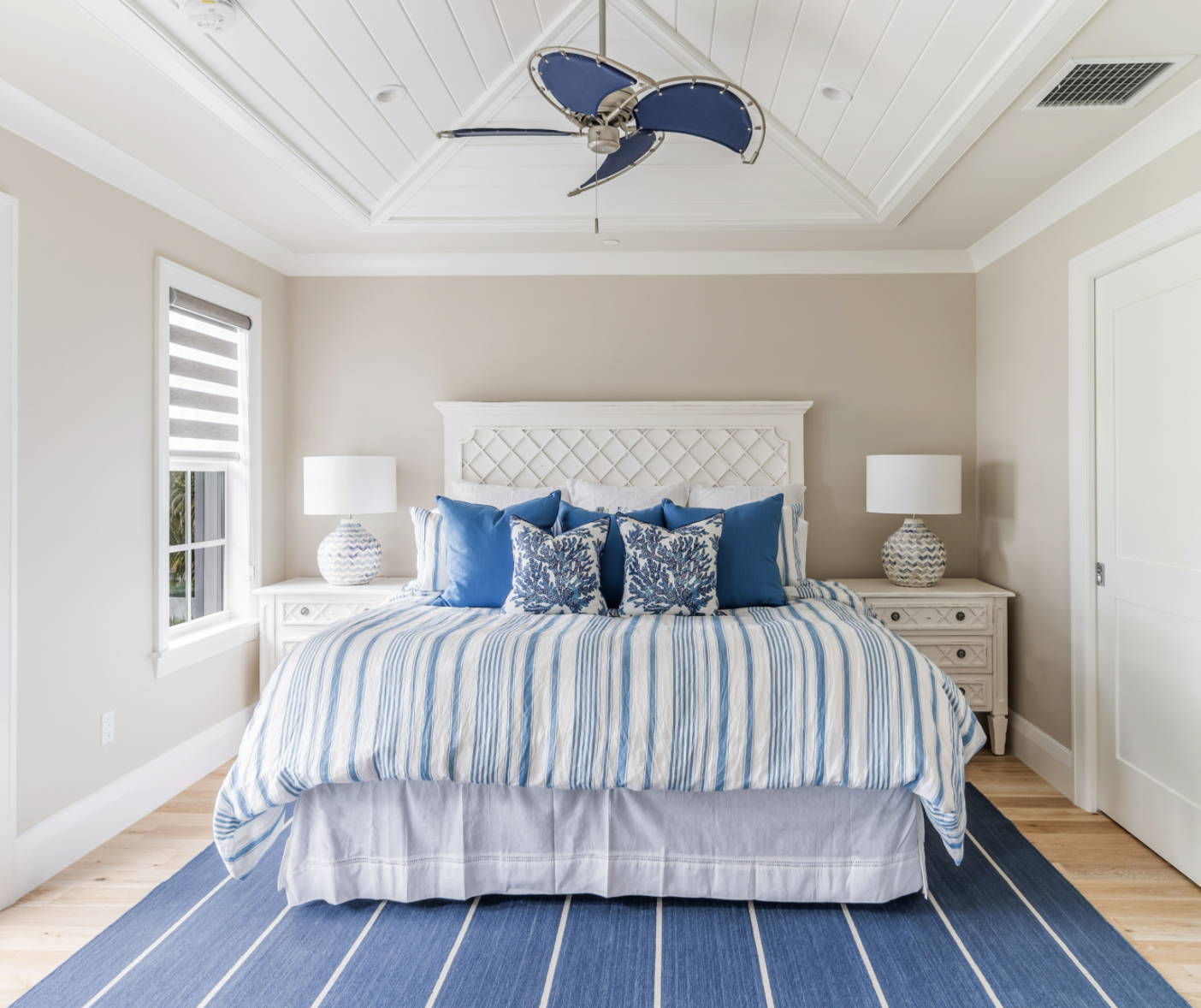 From the concept board, we order all the pieces to complete the installation. For this project, every non-fixed item shown is available. From the mahogany headboard with cross hatch design with companion bedside chest, cornflower blue pillows, crips white linen duvet, rich cobalt sea life pillows, nautical striped Cape Cod rug and chevron indigo bone lamps - all pieces purposely chosen for a cohesive, complete look. Calming blues and comforting covers, this guest bedroom makes a statement in the home.


Mastering the Master Suite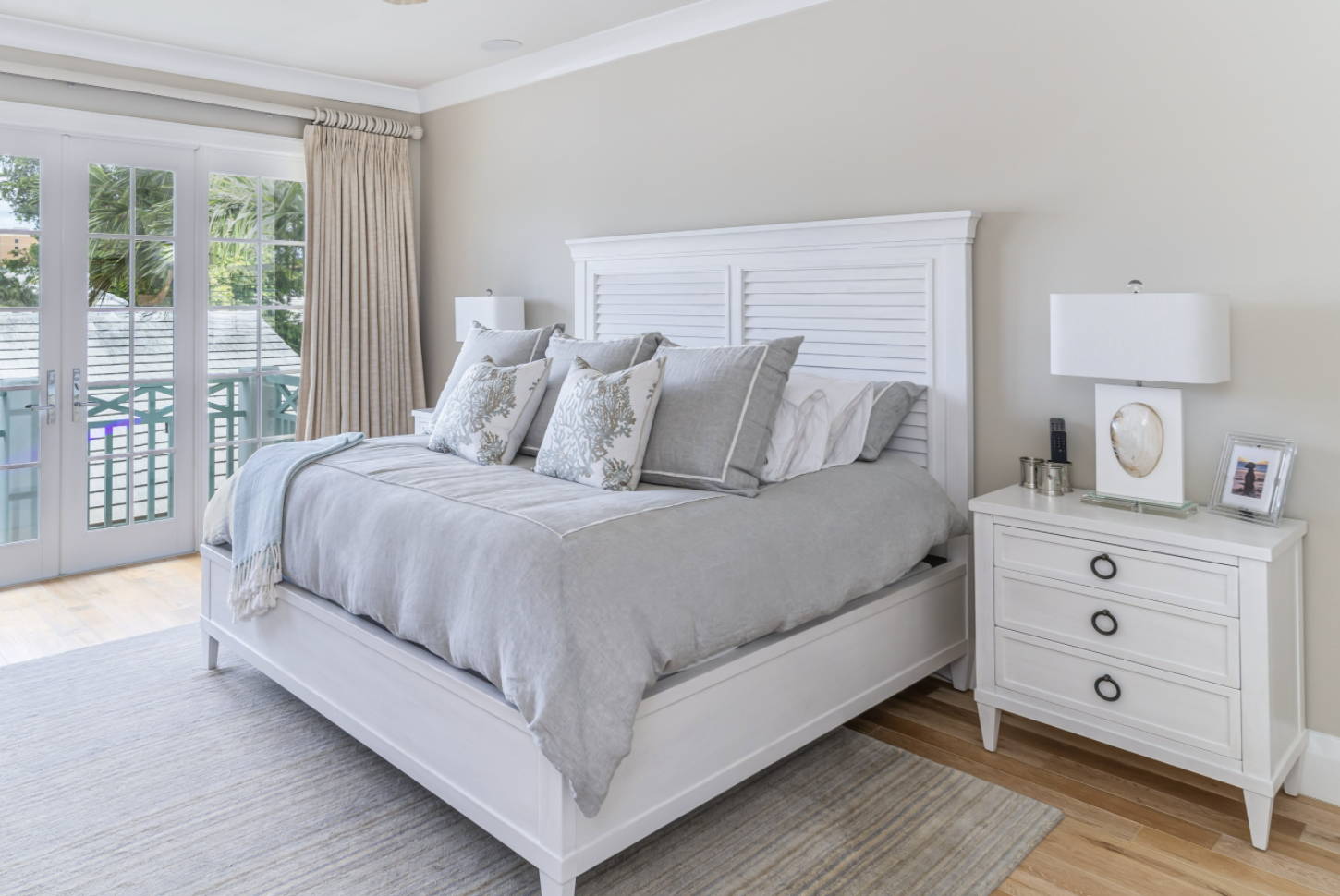 Choose the color palette that is soft and relaxing to ensure a good night's rest. Soft aquas, tans, whites accentuate this master bedroom.
It's neatly appointed and clean lined, this bedroom says comfort.
A great way to coordinate, but not necessarily be an exact match to the bedside chests, dresser or armoire - try a slipcovered bed. Available in a wide variety of fabrics, it's a soft, simple way to keep the bedroom light and relaxing. If you ever choose to change the color way in the space, it's easy to change out the slipcover.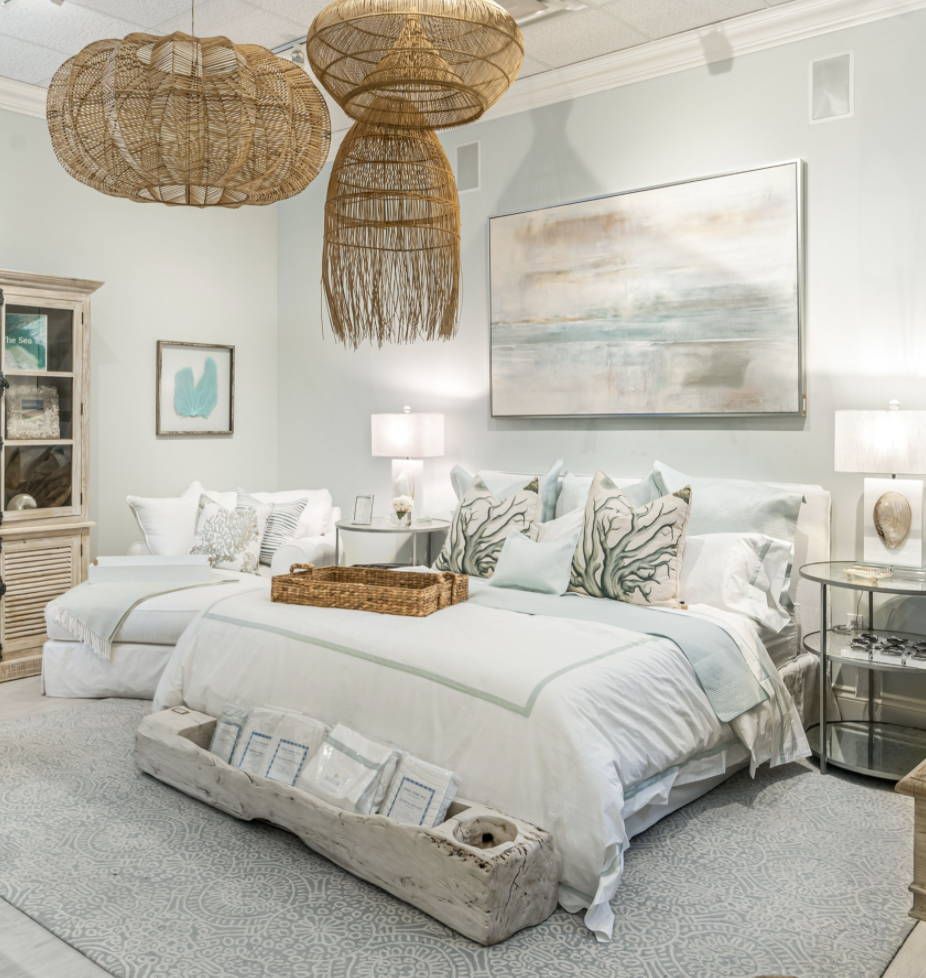 Croatia Slipcovered Bed. Delray Beach Showroom
Matching twin beds keeps things symmetrical and somewhat cohesive. The room is not large, so we allowed space for a shared large rug as well as room to make the beds. The shutter style headboard creates a cute, coastal cottage feel with the paired night table. Excellent storage for books, games and misc storage. The color choice was deep indigo and bright white - to keep it fresh and fun for any small guests.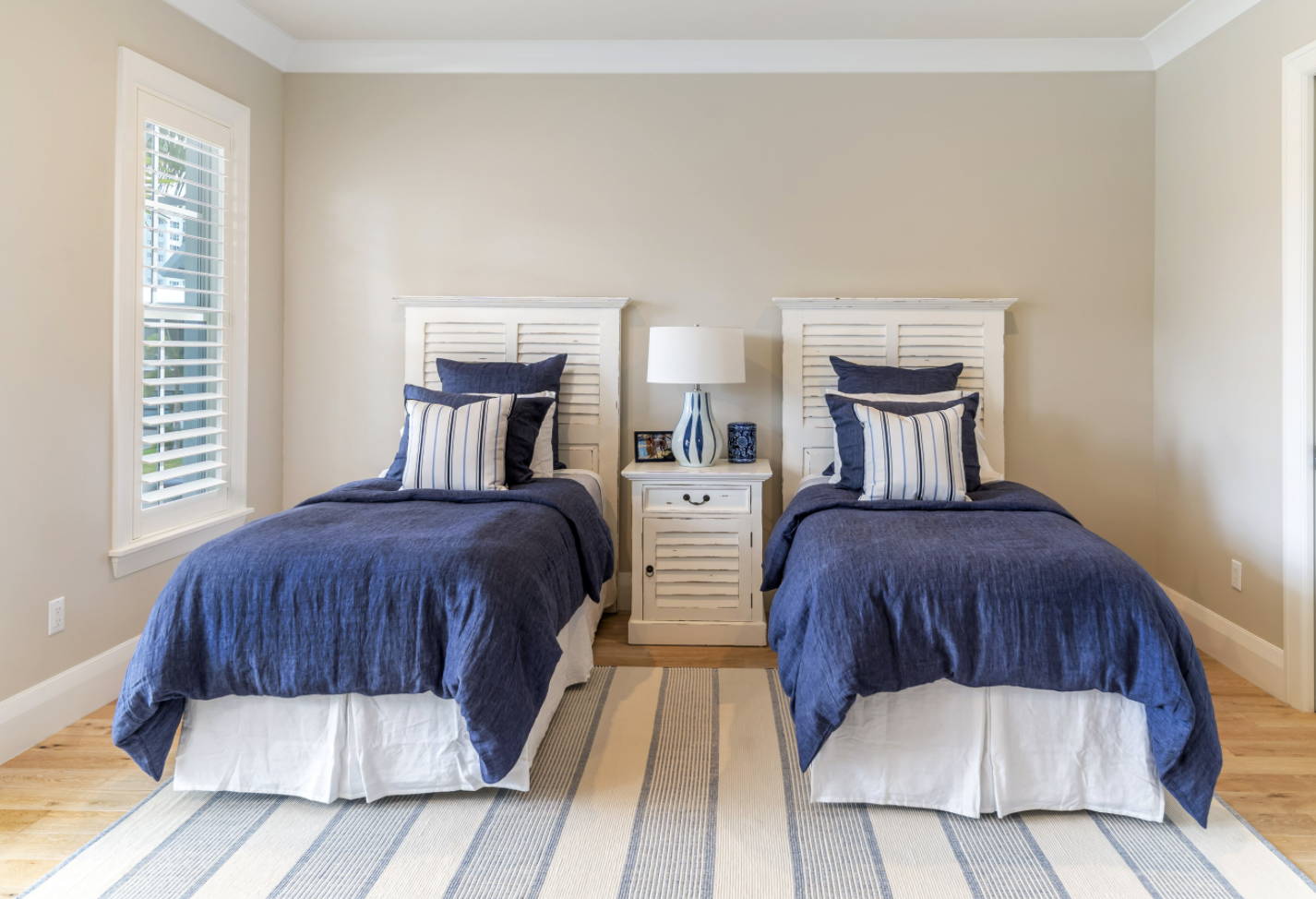 Finished Room Above
& Concept Board Below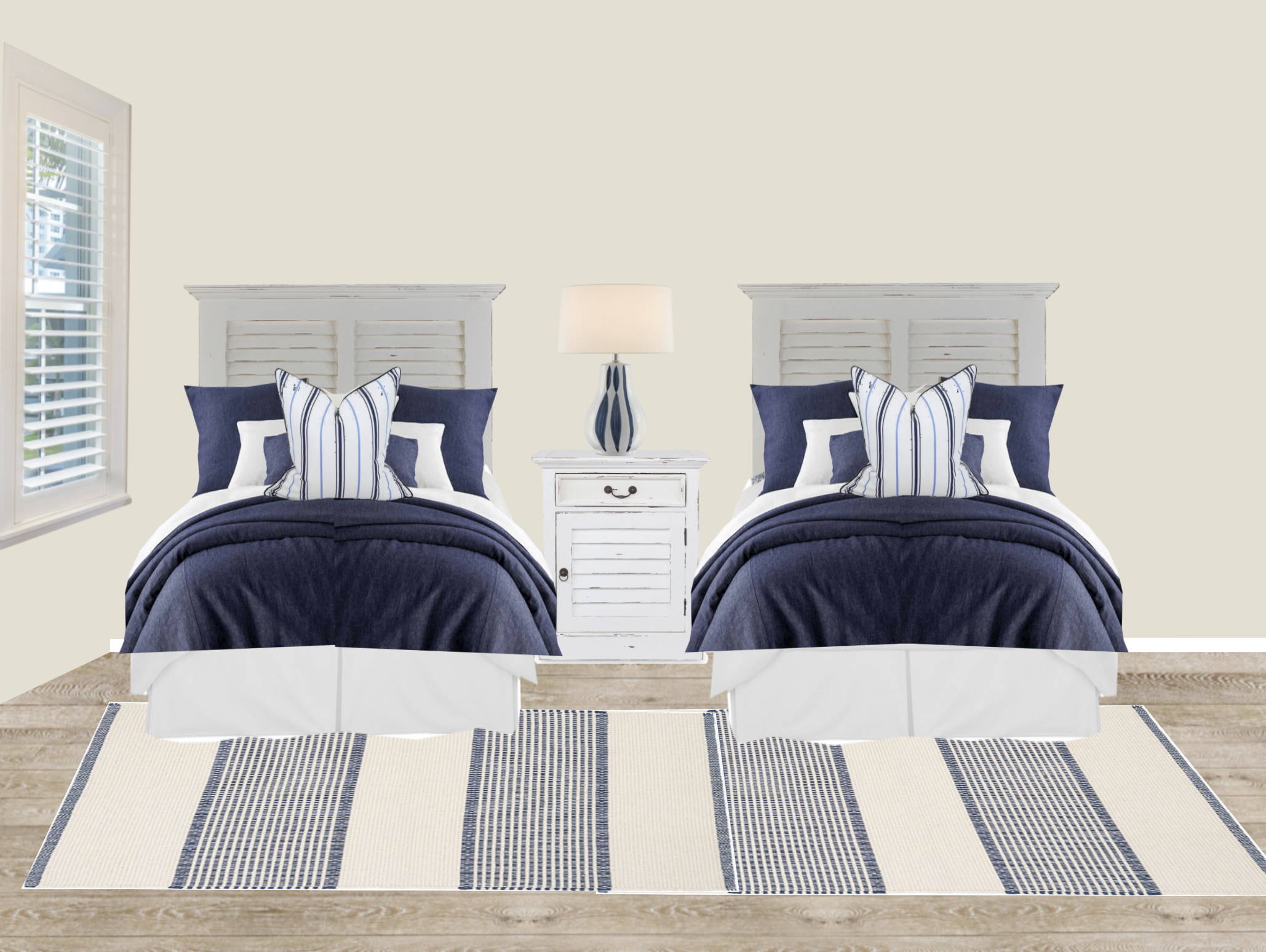 A good rule of thumb in any beach house is to have a kids area with either a pair of twin beds, a bunk room or both! In our showroom, we display a nautical bunk idea with portholes and convoy sconces for night time reading & fun. For our clients, they wanted a pair of twin beds, headboards only to save space and went with rich navy and crisp whites.