January 16, 2023
5 Lighting Trends For Coastal Home Design 2023
We are loving the exciting new trends in lighting this year. Everything from big, bold and beautiful chandeliers to lighting with coastal motifs are making a giant splash in home lighting design in 2023. Discover all our favorite lighting trends and take a peak at what's new and what's authentically vintage.
1. Big Beautiful Chandeliers
Big Beautiful Chandeliers are in and here to stay! Over-scaled chandeliers make a big impact in a room -they create drama and give dimension. They are an overhead work of art. Chandeliers not only add light to a room, but they complete a room. Designers are creating spectacular rooms with the focus on Big Chandeliers. Especially with today's high ceilings, that volume of space needs to be filled and made special. Our White Washed Wood Stick Chandelier has tiers of wood sticks on iron arms. The light is within the white sticks and it creates a magical glow and ambience creating a big statement. Large Coastal style chandeliers are perfect for a beach cottage or an oceanfront estate. Designers are using large scale pieces even in smaller rooms with dramatic effect. Our Large Rattan Lantern takes a classic lantern shape and wraps it in rattan making it perfect for a coastal style home or beach house. The grand scale is both simple and classically elegant.
2. Natural Materials Like Rattan and Rope
Natural elements will continue be prevalent in home design. The love of real natural materials will never go out of style. Natural materials like rattan and rope are being used in new and interesting ways in lighting. Rattan chandeliers, lamps and pendants are the quintessential style for a beach house - casual but classic. Our Marseille Rattan Chandelier is made by artisans with beautifully woven rattan in a geometric shape. We can envision this in an entry way or over a round dining table. Our Georgian Rattan Lamp is a classic shape in an organic basketweave rattan. It's right at home in this coastal style bedroom. Our Lanai Abaca Rope Chandelier is an example of how unique natural materials like rope are being incorporated into lighting design. The rope is hand knotted and draped in an artful way to create this unique and stunning chandelier. If you are looking for a unique, beachy chandelier, this is it!
3. Coastal Motifs Are On Trend in Light Fixtures
Coastal Motifs and Nautical Motifs are lighting up our homes....of course, this is our favorite trend that will transcend trends. This is not your average coastal grandmother look. Sculptural Oyster Shells, Sea Fans and even Jelly Fish are artfully designed into statement lighting fixtures.... Emphasizing peoples love of the sea and giving personality to our homes. Our Sculptural Oyster Shell Chandelier is a work of art - hand made by artists. The oyster shells are artfully placed in clusters and each one is unique. This is a piece your family will pass down for generations. The Sea Fan Pendant is delicately made with gold gilt iron. Designed by Aviva Stanoff, who described her inspiration as a feeling that she is part mermaid. She has a deep reverence for the sea and the sea fans that grow under water "remind us that we live among tides, that life is cyclical and there is beauty in believing in magic." Our Jelly Fish Pendants come in 3 different sizes and everyone's face lights up when they see them glowing from the ceiling. Their nickel finish shines with cascading clear beads that reflect the light in interesting patterns. They are whimsical and they work well over a bar, in the corner of a room, on a staircase..... endless possibilities.
4. Sconces, Sconces Everywhere
Sconces are adding that additional layer of light in hallways, flanking art work, lighting library shelves and as a task light by the bed. Designers are using them everywhere and we love them. They give dimension to the space by lighting the perimeter of the room and accenting walls. A wall hung swing arm lamp like our Brighton Rattan Swing Arm Lamp, is perfect when space is limited on the night stand and will give you plenty of light for reading, plus they look wonderful and have so much character. Our Captain's Iron Swing Arm Lamp has a rubbed French Black Finish with a gold leaf finish on the interior of the shade which gives a warm glow light for reading or to light up a book shelf.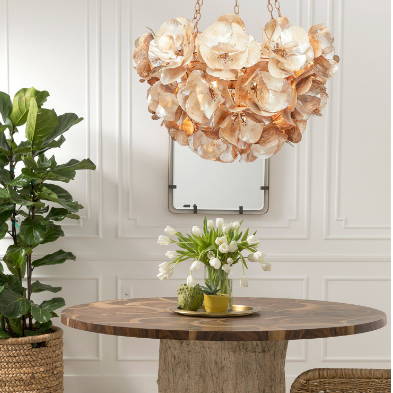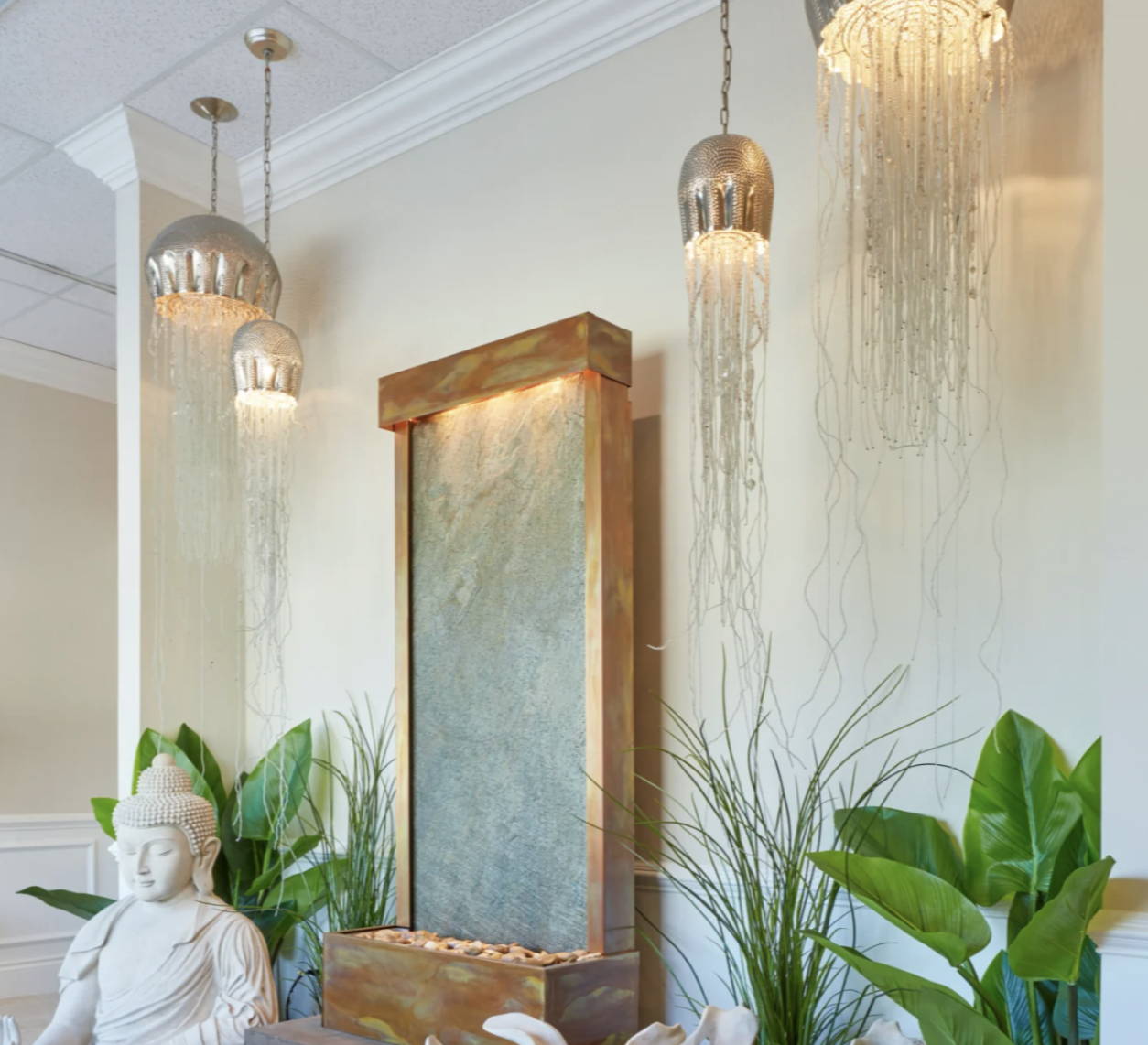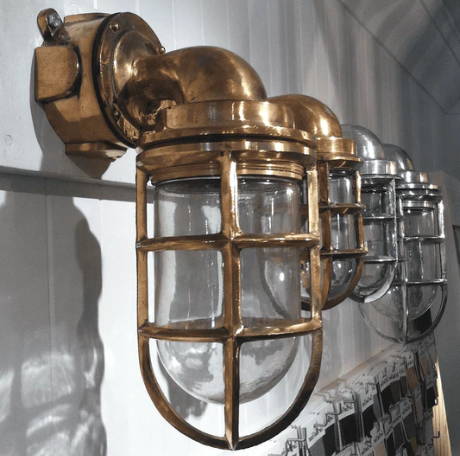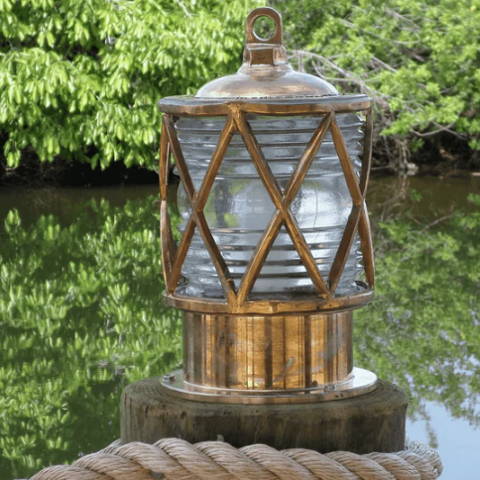 5. Traditional and Vintage Style Is On Trend
Just as traditional and vintage style is in - with home furniture design, it is in - with lighting as well. People want a sense of history and some traditional detail in their homes. Not that rooms are going to go all traditional, but rather a mix of contemporary with traditional and vintage elements... giving rooms more character and style. Sterile is out. Warmth and history mixed with clean lines of contemporary are in.
Our Traditional Iron Chandelier is reminiscent of an old iron lantern and we love how historic this feels. We can just picture this over a rustic wood table or over a large natural stone center island. The smooth black French finish is contrasted with the gold leaf finish on the interior of the shade - making for a beautiful glow. Our Authentic Ship Lights are indeed Vintage and salvaged from Old Ships. They are magnificently made with solid Brass. The weight of these Solid Brass fixtures alone is evidence of the quality - quality of craftsmanship not found in most of today's manufacturing. The Authentic Ship 90 Degree Passageway lights come in 2 sizes. They are designed to be wall mounted and can be used indoors or outdoors. Our Authentic Belfast Brass Piling Light is a great addition to your dock or outside on your patio, They have also been used creatively indoors on the post of a stair way banister. Our vast collection of Authentic Vintage Ship Lights will delight any collector, nautical enthusiast or anyone who wants a piece of magnificent maritime history.
October 21, 2022
Cozy Cottage By The Sea
A cozy cottage by the sea is what dreams are made of. Create that feeling in your home with simpl...
Read